Compositional simulation model for carbon dioxide flooding with improved fluid trapping, A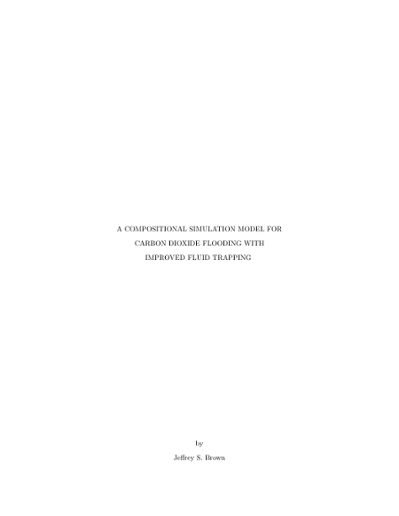 Name:
Brown_mines_0052E_10621.pdf
Size:
4.562Mb
Format:
PDF
Description:
A compositional simulation model ...
Abstract
A new formulation for fluid trapping using a dual-media approach which includes compositional trapping and interphase mass transfer was developed, coded, and validated. This formulation does not exist in notable commercial reservoir simulators. The formulation was incorporated into a three-dimensional, three-phase, parallel compositional simulator to simulate carbon dioxide (CO2) water-alternating-gas (WAG) injection. Fluid phase trapping is both a channeling issue and a pore-scale issue. Pore-scale phase trapping is strongly related to hysteresis in the relative permeability and capillary pressure; the simulator incorporates them in a methodology consistent with these issues. New algorithms were developed to implement the CO2 solubility in water and oil and CO2 phase trapping in a way that preserves the mass balance of the oil, water, and gas phases. The new simulator was implemented using a parallel infrastructure to facilitate computationally intensive fine grid systems. For test examples, we focused on a mixed wet carbonate reservoir in the Middle East. These tests were used to evaluate the significance of various trapping scenarios. Compositional trapping, gas relative permeability hysteresis, CO2 solubility in water, and permeability heterogeneity were found to have significant impacts on oil recovery and timing, as well as CO2 storage and utilization during waterflood and CO2 WAG processes.
Rights
Copyright of the original work is retained by the author.
Collections