Pore pressure, and the interdependency between lithology, porosity, and acoustic log response targeting the Vaca Muerta Formation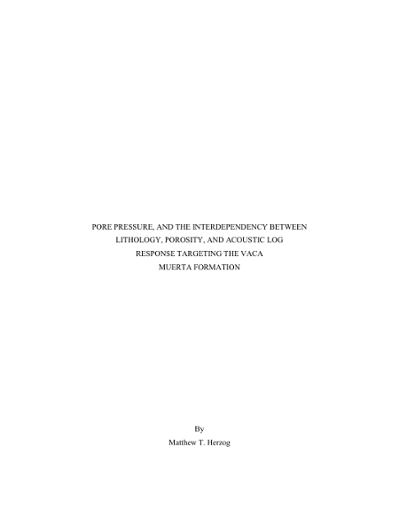 Name:
Herzog_mines_0052N_10588.pdf
Size:
4.940Mb
Format:
PDF
Description:
Pore pressure, and the interde ...
Advisor
Bratton, Tom
Eustes, Alfred William
Abstract
Accurately predicting pore pressure in unconventional plays is an important aspect in executing sound, safe, and economical, drilling practices. Disequilibrium compaction, where fluid pressure increases due to compaction (loading), cannot fully explain overpressure conditions present in many unconventional plays. Secondary pressure mechanisms such as hydrocarbon maturation and variations in burial history will cause velocity response to follow unloading paths, not solely loading. To capture the excess pressure generated, pore pressure can be estimated from wireline sonic logs using a modified Bowers approach. This method uses an effective stress approach, where compressional velocity data is related to effective stress (overburden minus pore pressure) using a modified Bowers set of equations. In an effort to further reduce model mismatch, Bowers' original equations are modified to include porosity and lithology effects on velocity. To do so, logs from well within the LJE block in the Neuquén Basin are depth shifted to a reference well. Depth shifting shows a remarkable lack of variation in log signatures between wells, regardless of tool vintage, implying these wells possess similar stress states, mineral constituents, and porosities. This finding allows for a compressional velocity log correction back to a constant lithology and porosity, variation from which is attributed to effective stress. The effective stress component, and its relation to pore pressure, is the basis for which the modified Bowers pore pressure prediction methodology can be applied. Accurate pore pressure prediction is integral in mitigating recognized drilling challenges in unconventional reservoirs, such as maintaining drilling crew safety and wellbore instability, as well as selecting proper cement weights and casing grades. This paper will expand on the work Bowers completed in the Gulf of Mexico, adopting the methodology for use in the Vaca Muerta formation, as well as provide insight into the observable relationships between lithology, porosity, and acoustic log response.
Rights
Copyright of the original work is retained by the author.
Collections