Iron pyrite nanocrystals: synthesis and applications in lithium ion batteries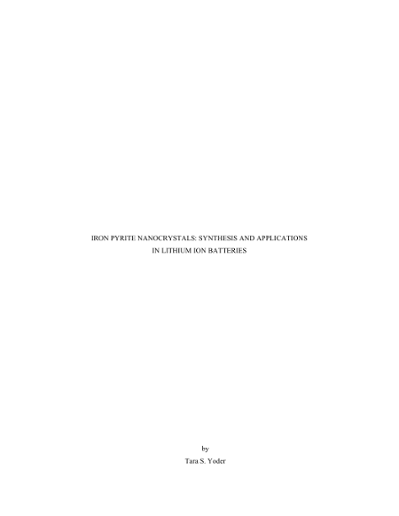 Name:
Yoder_mines_0052E_10614.pdf
Size:
6.226Mb
Format:
PDF
Description:
Iron pyrite nanocrystals : ...
Abstract
Iron pyrite (FeS2) has been widely utilized as a commercial cathode material for lithium ion batteries (LIBs) for 30+ years, due to its high charge capacity, natural abundance, low cost, and non-toxicity. Industrialized versions include both non-rechargeable Li/FeS2 batteries at ambient temperatures of -40 - 60 °C and the rechargeable Li/FeS2 batteries at high-temperatures of 400 - 450 °C. However, FeS2 cathodes suffer from poor cyclability at room temperature due to multiple issues, including volume-fluctuation induced electrode pulverization, detrimental reactions between the electrolyte solution and the active materials, and the formation of soluble lithium polysulfides. One promising strategy to overcome these challenges is the encapsulation of synthetic FeS2 nanocrystals in a conductive, resilient carbon (RC) matrix. We have studied two approaches for producing the RC matrix, using glucose or polyacrylonitrile as the carbon source. The glucose-based FeS2@RC composite is fabricated through a hydrothermal treatment followed by a pyrolysis treatment. The polyacrylonitrile-based FeS2@RC composite is produced by directly pyrolyzing the FeS2/polyacrylonitrile slurry. The FeS2@RC electrodes showed superior cyclability compared with the FeS2 electrodes, due to the enhanced capability to accommodate the volume fluctuation. Moreover, to achieve conformal encapsulation and prevent particle aggregation, monodisperse, colloidal iron pyrite nanocrystals (or FeS2 NC inks, 5.5 ± 0.3 nm) have been synthesized via a facile, air-compatible method. Inks are desirable for large scale manufacturing processes such as roll-to-roll deposition or ink-jet printing. The synthesis combines a solvothermal pre-synthesis and a digestive ripening post-process. Density Functional Theory computations on the precursor suggest an acid mediated degradation mechanism for the formation of FeS2 nanocrystals.
Rights
Copyright of the original work is retained by the author.
Collections