Multi-scale sequence stratigraphy, cyclostratigraphy, and depositional environment of carbonate mudrocks in the Tuwaiq Mountain and Hanifa formations, Saudi Arabia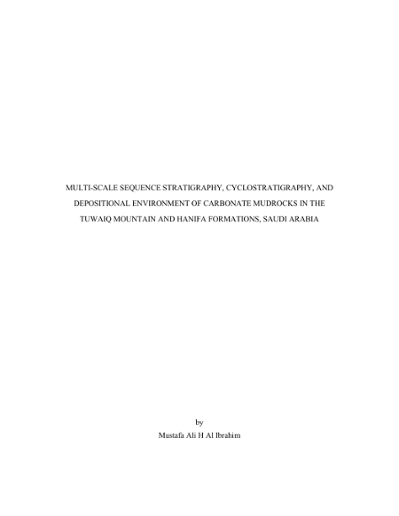 Name:
AlIbrahim_mines_0052N_10599.pdf
Size:
16.43Mb
Format:
PDF
Description:
Multi-scale sequence stratigraphy, ...
Advisor
Sarg, J. F. (J. Frederick)
Abstract
Carbonate mudrocks are heterogeneous at different scales. Linking the large-scale heterogeneity (e.g., sedimentary structure, and rock types) to the small-scale variations (e.g., micrite textures, pore types, and organic content) is essential for hydrocarbon exploration. This study examines a basinal interval of the Tuwaiq Mountain and Hanifa formations, Saudi Arabia, in an attempt to establish this linkage. Five lithofacies have been identified from core and thin sections. At this location, the Tuwaiq Mountain Formation is composed of shelf-derived wackestones to grainstones, and is dominated by a highstand systems tract. The Hanifa Formation is composed mainly of laminated mudstones and wackestones, capped by a sequence boundary and a lowstand systems tract composed of packstones and anhydrite. Multi-scale automated electrofacies analysis using self-organizing maps and hierarchical clustering shows good correlation with lithological variations observed and the sequence stratigraphic interpretation. Elemental analysis allows for the creation of redox and paleoproductivity indices. High total organic carbon content occurs in transgressive system tracts and correlates well with intervals with suboxic to anoxic conditions and relatively high paleoproductivity. Cyclostratigraphic analysis done with borehole images using the Modified Fischer Plot approach shows distinct thinning and thickening stacking patterns. These are correlatable with independently defined sequence stratigraphic surfaces. Spectral analysis shows viable correlation with Milankovitch cycles. High-resolution scanning electron and confocal microscope images show different micrite textures ranging from porous subrounded to tightly fused micrite. Variations in texture are mainly attributed to sediment composition. Shelf-derived sediments are dominant in the highstand systems tract and are metastable, resulting in recrystallization and tight micrite formation. Transgressive systems tracts contain a relatively higher proportion of coccoliths. These are relatively more stable, so a porous texture is observed due to lack of recrystallization. Coccoliths can also bind with organic matter, which results in an increase in settling velocity, leading to enhanced preservation of organic matter. Depositional processes related to the sequence stratigraphic framework are interpreted to control microscale variations in terms of micrite texture, porosity, and total organic content.
Rights
Copyright of the original work is retained by the author.
Collections