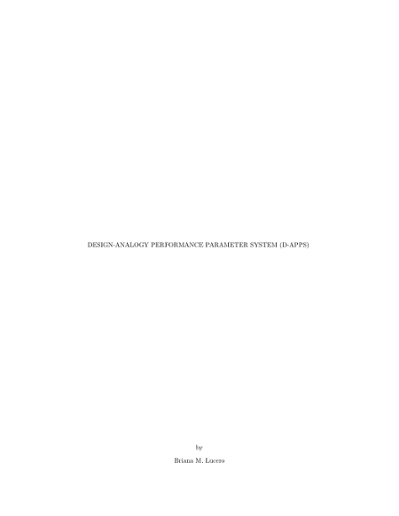 Name:
Lucero_mines_0052E_10598.pdf
Size:
6.292Mb
Format:
PDF
Description:
Design-analogy performance ...
Advisor
Turner, Cameron J.
Abstract
Analogical reasoning is not the only approach for achieving innovation, but it is a highly effective and noted method. To avoid relying on chance identification of analogies through unique individual knowledge and experience, this research considers the potential impact of a system where an engineer could begin with their existing design, specify to a computer a set of critical functions and desired design performance improvements, and be returned with design analogies intended to inspire avenues for design improvements. This system, called Design Analogy Performance Parameter System (D-APPS), implements performance metric matching to retrieve examples and stimulate analogical mapping, enabling innovative design advances. This dissertation presents a proof-of-concept D-APPS tool organized into 3 major areas: 1) critical functions and flows in the use of analogy mapping, 2) frameworks for performance metrics, and 3) an application enacting this frameworks called: Design Repository & Analogy Computation via Unit-Language Analysis (DRACULA) software package. For a given design problem, critical functions are those which are the most important product functions to meet the product requirements and customer needs. Functions which are commonly used in a given design domain provide an optimal target for demonstrating D-APPS with a limited set of database examples that satisfies the most common functions. A study of function usage in the student design repositories of three universities revealed the high prevalence of a small set of functions for the domains represented in those repositories. Akin to the functions, the critical flows are also characterized in this dissertation as those that are most pertinent to satisfying the Key Performance Parameters (KPPs) of a product. Organizing the many technical performance metrics in engineering design, such as lift or drag, is categorized in D-APPS. Studies were conducted to investigate and propose a framework for organizing metrics and facilitating metrics-based design example retrieval. The efforts generated a classification of performance metrics similar to the functional basis vocabulary of function and flow terms. The generated taxonomy used dimensional analysis to organize performance metrics by their composite, generalized units of measure (e.g., mass, length, time), augmented by functions as defined by bond graph characteristics. The culmination of this research is the DRACULA application, comprised of a repository and search algorithm. The design repository developed from the frameworks established with this dissertation allow for isomorphic matching of the functional models when dissected into engineering performance parameters and functional characteristic categories. Comparison of the models is performed utilizing graph theory to connect the functions and flows of the target and analog solutions, resulting in analogies capable of increasing abstraction.
Rights
Copyright of the original work is retained by the author.
Collections