Studies into the detection, characterization, and behavior of naturally occurring and engineered inorganic nanoparticles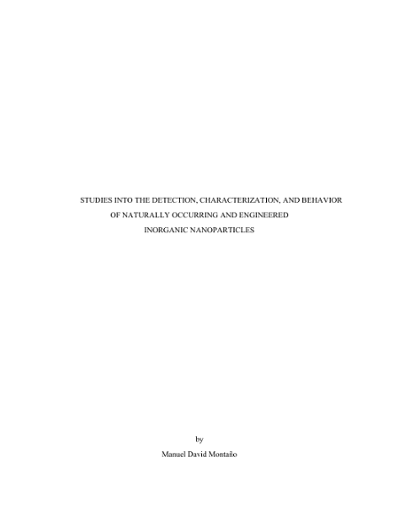 Name:
Montano_mines_0052E_10587.pdf
Size:
5.555Mb
Format:
PDF
Description:
Studies into the detection, ...
Advisor
Ranville, James F.
Abstract
The increasing manufacture, production, and incorporation of engineered nanomaterials (ENMs) into consumer products have raised several concerns regarding their persistence and impact upon release into the environment. Determining the environmental risk of these materials requires knowledge of their hazard (ecotoxicity) and exposure (environmental concentration). While ecotoxicological research has a number of obstacles to overcome, the determination of environmental concentration, physicochemical state, and transport of ENMs is compounded with its own analytical challenges. Many current analytical techniques lack the required sensitivity and selectivity to detect these materials at low concentrations (ng L-1) and in complex environments which may contain materials similar in size and composition. In recent years, single particle ICP-MS (spICP-MS) has been developed as an analytical technique capable of overcoming these challenges despite being limited by a narrow working range and inherent complications arising from molecular interferences. The work presented in this thesis details studies into the behavior of ENMs with naturally occurring nanomaterials, as well as the significant improvements that have been made in the detection and characterization of ENMs in environmental systems. The results demonstrate how the surface coating of these engineered nanoparticles can affect their interaction with other naturally occurring nanomaterials, impacting their fate and transport. New analytical metrology was developed to overcome many of the challenges associated with detecting and characterizing ENMs in complex matrices. Lastly, a number of analytical techniques are discussed that may help discern engineered and naturally occurring nanomaterials from one another by monitoring elemental ratios and the size distributions of these materials. Sensitive analytical techniques, such as those developed in this work, are necessary to ensure the responsible development and implementation of nanotechnology.
Rights
Copyright of the original work is retained by the author.
Collections