Petroleum-expulsion fracturing in organic-rich shales: genesis and impact on unconventional pervasive petroleum systems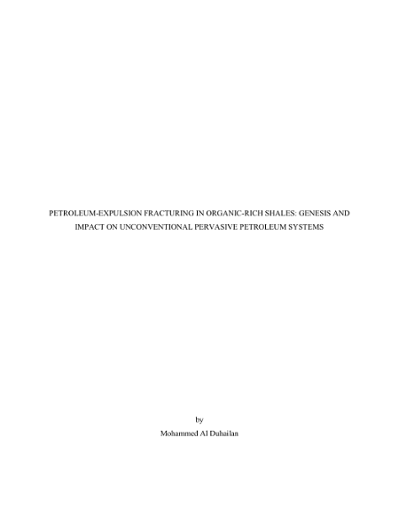 Name:
AlDuhailan_mines_0052E_10582.pdf
Size:
15.54Mb
Format:
PDF
Description:
Petroleum-expulsion fracturing ...
Advisor
Sonnenberg, Stephen A.
Abstract
A combination of basic-analytical, experimental and applied-observational research studies were conducted on a variety of organic-rich shales to investigate petroleum-expulsion fracturing and its role in unconventional pervasive petroleum systems. In unconventional organic-rich shale plays, pervasive petroleum accumulations exist where the units are thermally mature and actively generating hydrocarbons. These organic-rich shales are typically overpressured with no matrix porosity in evidence and permeability in the micro Darcy scale. High production rates from these organic-rich shales are assumed to come from micro-scale fractures. Earlier speculative conclusions are that these micro-scale fractures are bedding-parallel and related to source-rock maturity, petroleum generation and overpressuring. High differential pressure caused by petroleum generation is the dominant force in initiating these petroleum-expulsion fractures, facilitating primary migration of petroleum and forming pervasive petroleum systems. The applied-observational study includes data observations that were made on six organic-rich shales: 1) Green River, 2) Niobrara, 3) Bakken, 4) Vaca Muerta, 5) Eagle Ford and 6) Haynesville. These observations provided explanations of the associations of petroleum-expulsion fracturing with shale organic and geomechanical facies, shale resistivity and productivity. Also, they resulted in recognizing five distinctive attributes as being associated with the existence of pervasive bedding-parallel, calcite-filled "Beef" fractures in shales: (1) organic-rich, (2) thermally mature, (3) overpressured, (4) mechanically anisotropic and (5) calcareous. The basic-analytical study resulted in deriving new equations as mathematical relationships that describe pressure increase due to petroleum generation. These equations were utilized to calculate the petroleum-generation pressure during the stages of petroleum generation (kerogen to bitumen to oil), and to investigate the factors controlling the initiation of petroleum-expulsion fractures. The governing variables in these equations are the fractional conversion, organic richness, water solubility, rock and fluid compressibilities. The study also revealed that geometric shape of the organic matter, tensile strength anisotropy and poroelastic behavior control petroleum-expulsion fracturing. A high aspect ratio, namely thin flakes of kerogen or bitumen-filled voids, favors horizontal fracturing. A low aspect ratio favors vertical fracturing. The effect of tensile strength anisotropy in fracture initiation and propagation is manifested by the change of rock tensile strength with angle (with respect to bedding). The anisotropic poroelastic behavior depends on the anisotropy of the elastic moduli (Young's modulus and Poisson's ratio). The derived petroleum-generation pressure equations were extended to include time and temperature which can be utilized to be able to simulate pressure increase in both lab and nature. Consequently, hydrous pyrolysis experiments were conducted to provide means of assessing petroleum-generation pressure calculations. The experimental study concluded that the preferred direction of expulsion fracturing is along bedding due to significant vertical expansion. The basic-analytical study introduced one-dimension petroleum-generation pressure diffusion models to investigate the factors controlling the role of petroleum-expulsion fracturing in forming the unconventional pervasive petroleum systems. The investigation implied that buoyancy forces should have no effect on forming the unconventional pervasive petroleum accumulation. High differential pressures caused by petroleum generation appear to be the dominant force through the initiation of expulsion fractures. The study also introduced a map denoted as "petroleum-expulsion fracture map." This map was shown to be a promising tool to theoretically define the limits of the unconventional pervasive petroleum system. This integrated research proposes a recipe for forming unconventional pervasive petroleum systems: (1) active petroleum source (organic-rich, thermally-matured, hydrocarbon-generating source rock), (2) dynamic petroleum seal (low permeability reservoir rock in a close proximity to source rock) and (3) efficient petroleum expulsion (charging the system at rates exceeds the rates of leakage out of it). Thus, petroleum accumulations that are pervasive must be differentiated from the buoyant, discrete conventional petroleum accumulations. The factors controlling the nature of the petroleum system can lead directly toward defining the term "unconventional petroleum systems." It is defined here according to: (1) proximity to source rock, (2) permeability of reservoir rock, (3) viscosity, (4) level of technology challenge.
Rights
Copyright of the original work is retained by the author.
Collections