Sintering ceramic materials: a module developed for hands-on learning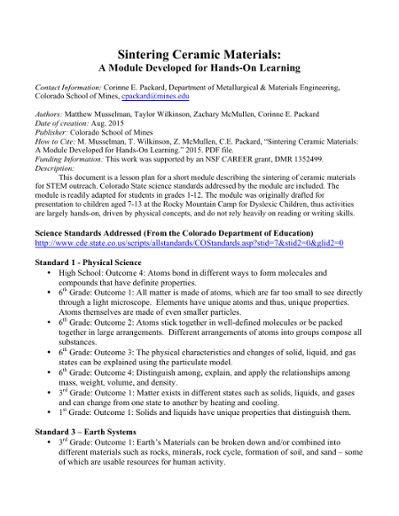 Name:
Sintering Ceramics Lesson Plan ...
Size:
3.709Mb
Format:
PDF
Description:
A Module Developed for Hands-On ...
Abstract
This document is a lesson plan for a short module describing the sintering of ceramic materials for STEM outreach. Colorado State science standards addressed by the module are included. The module is readily adapted for students in grades 1-12. The module was originally drafted for presentation to children aged 7-13 at the Rocky Mountain Camp for Dyslexic Children, thus activities are largely hands-on, driven by physical concepts, and do not rely heavily on reading or writing skills.
See related learning object: Ceramic materials in renewable energy: a module developed for hands-on learning https://dspace.library.colostate.edu/handle/11124/171186.
Rights
Copyright of the original work is retained by the authors.