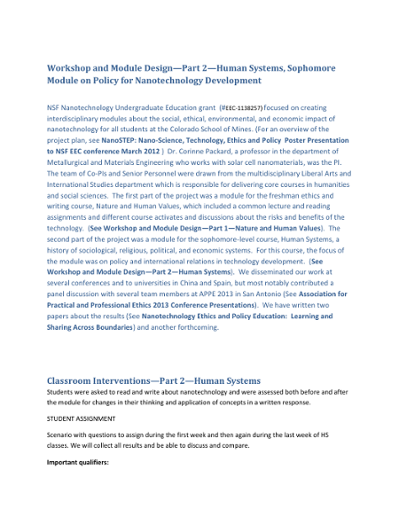 Name:
nanotechnology-workshop-module ...
Size:
659.1Kb
Format:
PDF
Description:
Workshop and module design part ...
Abstract
This module on policy for nanotechnology development was created for the sophomore-level course, Human Systems, a history of sociological, religious, political, and economic systems. It was developed as an extension of the freshman module on ethics described in the Workshop and Module Design Part One: Nature and Human Values. For the Human Systems course, the focus of the module was on policy and international relations in technology development. Students read and wrote about nanotechnology development in the context of their historical and sociological study and were then assessed for resulting changes in their thinking. This entry contains the assignments, assessments, and development materials for the module.
Rights
Copyright of the original work is retained by the authors.