Pulsed PECVD synthesis of metal dichalcogenide thin films for sustainable energy applications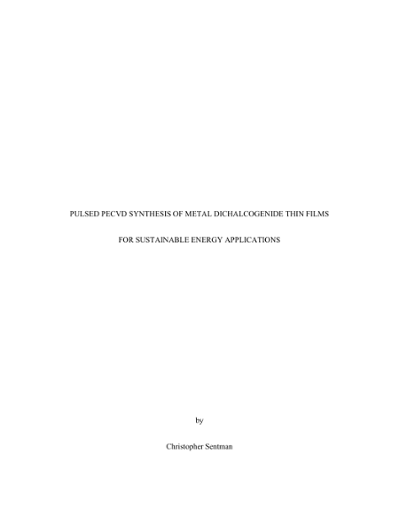 Name:
Sentman_mines_0052N_10570.pdf
Size:
4.144Mb
Format:
PDF
Description:
Pulsed PECVD synthesis of metal ...
Advisor
Wolden, Colin Andrew
Abstract
The current world energy demand is ~15 TW and growing, with >85% of production coming from non-renewable sources. The technologies for renewable energy exist, but to achieve this unprecedented scale of production at affordable cost will require developing alternative, earth abundant materials and develop new ways to produce them. Metal dichalcogenide (MS2, MSe2) are a class of semiconductors with unique optical, electrical and catalytic properties with potential applications in sustainability. The aim of this thesis was to develop a pulsed plasma-enhanced chemical vapor deposition (PECVD) as a novel approach for well controlled synthesis of stoichiometric thin films of FeS2 and WS2, establish their intrinsic material properties, and explore their potential in renewable energy applications. First, pulsed PECVD was developed for self-limiting growth of pyrite (cubic FeS2), a potential absorber for thin film solar cells. This material has promising attributes for photovoltaics, but poor device performance experienced to date has been attributed to the difficulty of controlling stoichiometry, avoiding marcasite phase impurities (orthorhombic FeS2), and surface defects. To mitigate these issues, several techniques rely on a post deposition sulfur annealing step, which would not be amenable for large scale manufacturing. In this work, self-limiting growth of FeS2 was accomplished using a continuous flow of Fe(CO)5 and H2S diluted in argon. The onset of thermal CVD was identified to be at ~300 °C, and films produced by thermal CVD contained sub-stoichiometric pyrrhotite. In contrast, pulsed PECVD produced stoichiometric FeS2 films without the need for post-deposition sulfurization. Films contained a mixture of pyrite and marcasite, though the latter could be minimized using a combination of high duty cycle, low temperature, and low plasma power. Conversely, marcasite rich films could be produced using low duty cycles and high plasma power. Both pyrite- and marcasite-rich films displayed similar optical properties with a band gap of ~1 eV and an absorption coefficient of ~10[superscript 5] cm[superscript -1]. Pyrite displayed relatively higher photoconductivity, but the absolute response was poor and solid-state devices fabricated with pyrite showed no rectifying behavior, indicating that this material may not be suitable for PV. Another energy application explored was the use of FeS2 as a cathode for Li batteries because of its high energy density. Here the composition was shown to have an impact. Pyrite films showed high initial discharges near 890 mA*hr/g. Similar capacities were observed initially for marcasite, but these films degenerated after a few cycles. The generality of pulsed PECVD for dichalcogenide synthesis was tested by applying the lessons gained from depositing pyrite to WS2. Stoichiometric WS2 thin films were produced by simply replacing Fe(CO)5 with W(CO)6. Films were deposited by thermal CVD and continuous wave (CW) PECVD for comparison, and it was found that pulsed PECVD delivered the best crystalline quality at combinations of high plasma power and intermediate duty cycles ([tau] = 0.50 - 0.67). This was attributed to the observation that pulsing produced transients with significantly enhanced plasma intensity relative to CW PECVD. Moreover the orientation of the films could be controlled through choice of duty cycle and thickness. WS2 was demonstrated to be catalytically active for hydrogen evolution reaction (HER), as films deposited on fluorine-doped tin oxide with an increased density of edge sites was shown to reduce the HER onset potential from 340 mV to 240 mV vs. RHE. Pulsed PECVD may also be promising for synthesizing WS2 nanocrystals, which could be formed in abundance under certain operating conditions.
Rights
Copyright of the original work is retained by the author.
Collections