Energy and community resilience: a collective conversation in Puerto Rico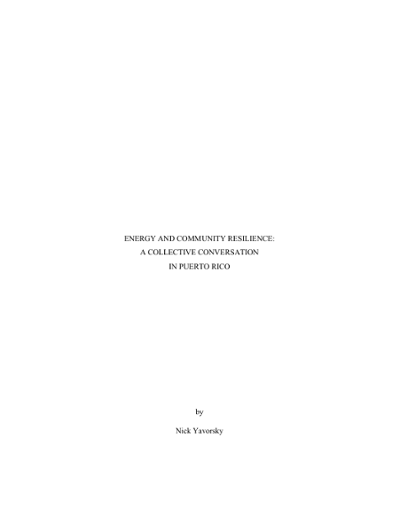 Name:
Yavorsky_mines_0052N_12365.pdf
Size:
593.5Kb
Format:
PDF
Name:
Yavorsky_mines_0052N_316/Copywrite ...
Size:
50.40Kb
Format:
Microsoft Word 2007
Abstract
The relationship between energy resilience and community resilience is complex. Numerous types of researchers and practitioners struggle with how to consider one in the context of the other. Traditionally, energy resilience strictly referred to grid operations and electrical infrastructure, but in recent years the societal considerations associated with community resilience have started to permeate that work. For researchers and practitioners operating in the United States, there is no greater place to witness this interplay than in Puerto Rico. Almost 5 years after the devastation of hurricanes Irma and Maria the Puerto Rican people are still working to strengthen their electric grid and establish an energy pathway into the future. For many in the archipelago, particularly those in the rural, mountainous municipality of Adjuntas, that pathway centers on the simultaneous consideration of energy and community resilience. This article is an attempt to highlight the various methods of energy resilience research and development currently taking place in research laboratory settings and across Puerto Rico. To demonstrate this variety and contextualize the different methods within the contexts that shape them, ten semi-structured interviews were conducted. Interview subjects included energy resilience research specialists from U.S. energy research laboratories and non-profits as well as Puerto Rican based representatives. The data collected from these interviews demonstrates the challenges resilience researchers and practitioners are wrestling with as well as the areas where consensus has developed. The data highlights how the contexts of each resilience researcher and practitioner shaped their work scope and level to which community resilience concepts were incorporated.
Rights
Copyright of the original work is retained by the author.
Collections