Improved methods of reflection seismic data processing for velocity estimation, imaging, and interpretation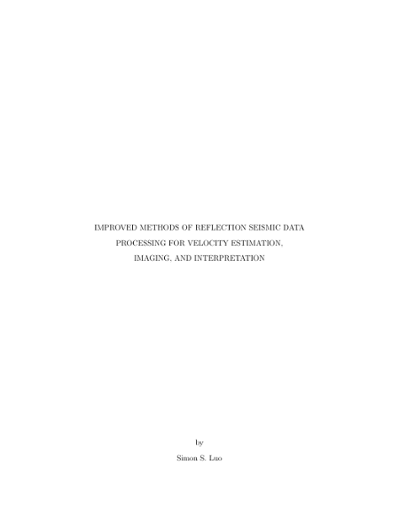 Name:
Luo_mines_0052E_10600.pdf
Size:
6.377Mb
Format:
PDF
Description:
Improved methods of reflection ...
Advisor
Hale, Dave, 1955-
Abstract
Seismic images and the geologic information they provide contribute significantly to our understanding of the earth's subsurface. In this thesis, I focus on methods relevant for constructing and interpreting seismic images, including methods for velocity estimation, seismic imaging, and interpretation, which together address key aspects of reflection seismic data processing. Specifically, I propose improved methods for semblance-based normal-moveout velocity analysis, for seismic imaging by least-squares migration, and for the automatic extraction of geologic horizons. To compute a seismic image, an estimate of the subsurface velocity is needed. One common method for constructing an initial velocity model is semblance-based normal-moveout (NMO) velocity analysis, in which semblance spectra are analyzed to identify peaks in semblance corresponding to effective NMO velocities. The accuracy of NMO velocities obtained from semblance spectra depends on the sensitivity of semblance to changes in velocity. By introducing a weighting function in the semblance calculation, I emphasize terms that are more sensitive to velocity changes, which, as a result, increases the resolution of semblance spectra and allows for more accurate NMO velocity estimates. Following velocity analysis, a seismic image of the subsurface is computed by migrating the recorded data. However, while velocity analysis is an important step in processing reflection seismic data, in practice we expect errors in the velocity models we compute, and these errors can degrade a seismic image. Instead of minimizing the difference between predicted and observed seismic data as is done for conventional migration, I propose to minimize the difference between predicted and time-shifted observed data, where the time shifts are the traveltime differences between predicted and observed data. With this misfit function, an image computed for an erroneous velocity model contains features similar to those obtained using a more accurate velocity. Once a seismic image is computed, a common task in interpreting the image is the identification of geologic horizons. As an alternative to manual picking or autotracking, I propose methods to automatically and simultaneously extract all horizons within an image. To extract geologic horizons, a seismic image is unfaulted and unfolded to restore horizons to an undeformed, horizontal state from which they can be easily identified and extracted.
Rights
Copyright of the original work is retained by the author.
Collections