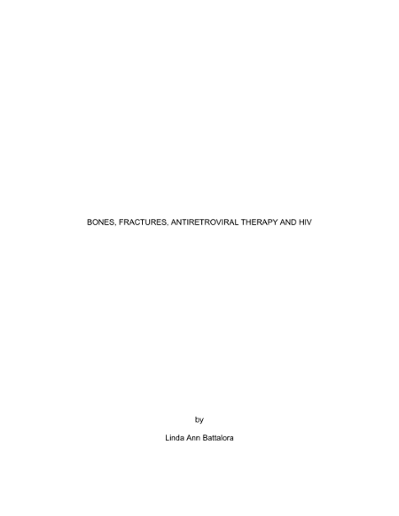 Name:
Battalora_mines_0052E_10483.pdf
Size:
4.479Mb
Format:
PDF
Description:
Bones, fractures, antiretroviral ...
Advisor
Spear, John R.
Young, Benjamin
Abstract
Although low bone mineral density (BMD) and bone fractures are increased among HIV-infected adults compared with the general population, no studies have yet characterized their causal association or probability of fracture in the context of HIV infection. Using dual energy X-ray absorptiometry (DEXA) BMD values of the left femoral neck, clinical data collected from two US Centers for Disease Control and Prevention-sponsored HIV cohort studies, factors associated with low BMD, and association of low BMD with subsequent incident fracture were analyzed. Using the FRAX® algorithm, rates of any new bone fracture and major osteoporotic fracture per 100 person-years of follow-up, stratified by initial FRAX® score intervals were assessed. Clinical and demographic risk factors for any new fracture were identified. Among 1008 patients contributing 5,032 person-years of follow up, 36.3% had osteopenia and 2.9% had osteoporosis. Ninety-five incident fractures were observed, predominantly rib/sternum, hand, foot and wrist. Low BMD was significantly associated with age, lower nadir CD4, history of fracture, and male-male sex HIV transmission risk. In multivariable analyses, only osteoporosis and increasing age remained associated with incident fracture. In a separate analysis, FRAX® score of [greater than]3% was also independently predictive of new fracture. In this cohort, median FRAX® scores were higher for those who had any subsequent new fracture vs. those who did not. Of the new fractures, 7.1% occurred among persons with FRAX® score [less than]3% (1.39 per 100py) and 15.3% among persons with FRAX® score [greater than or equal to]3% (3.27 per 100py). New major osteoporotic fractures were observed among 1.5% of persons with FRAX® score [less than]3% (0.30 per 100py), and among 4.9% (1.04 per 100py) of persons with FRAX® score [greater than or equal to]3%. In this large convenience sample of relatively young HIV-infected U.S. adults, low baseline BMD and increasing age were strongly associated with elevated risk of incident fracture, highlighting the potential value of DEXA screening in this population. A FRAX® score [greater than or equal to]3%, low baseline BMD, history of prior fracture, and increasing age were significantly associated with elevated risk of new fracture.
Rights
Copyright of the original work is retained by the author.
Collections