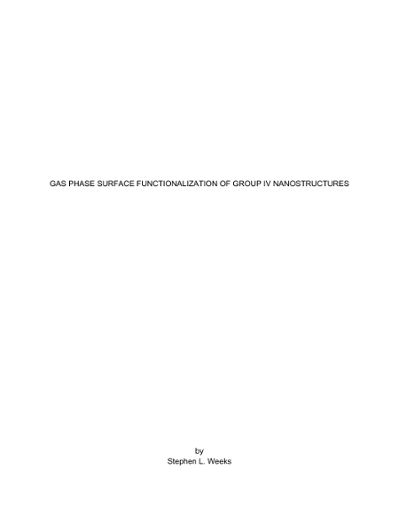 Name:
Weeks_mines_0052E_10519.pdf
Size:
4.319Mb
Format:
PDF
Description:
Gas phase surface functionalization ...
Abstract
The advent of group IV nanostructures has generated a large interest in the use of these structures to improve the performance in next generation electronic and optoelectronic devices such as photovoltaics, light emitting diodes, lasers, sensors (biological and chemical), and transistors. Nanostructures composed of group IV semiconductors are attractive for use in these applications as they are abundant and nontoxic. The use of these nanostructures in these applications is motivated by the numerous reports of novel optoelectronic phenomena that are sensitive to both the nanostructure size and interfacial composition. Although a wide variety of phenomena have been observed, wide scale device implementation remains difficult due to challenges in controlling the size and surface chemistry of the nanostructures. This dissertation describes work focused on understanding the impact of different processing techniques on the surface composition and passivation of group IV nanostructures. Here, we have focused on understanding how select chemical reactions induce changes in surface composition of silicon (Si) nanocrystals (NCs), and graphene oxide (GO). The first section of this dissertation presents work on gas-phase functionalization of plasma-synthesized H terminated Si NPs. Using in situ attenuated total reflection Fourier-transform infrared (ATR-FTIR) spectroscopy we have demonstrated that O2 and H2O present in the atmosphere generate different surface species on these NPs. Specifically, we have shown that O2 doesn't generate hydroxyls on the NP surface while H2O does. By collecting in situ photoluminescence (PL) concurrently with the in situ ATR-FTIR we have shown that the surface hydroxyls generated through oxidation with H2O vapor are correlated to a constant energy (~ 1.65 eV) increase in PL intensity. In addition, we have demonstrated a hydrocarbon surface coverage approaching the theoretical limit for flat surfaces by using a 1-alkyne (phenylacetylene) in the second step of a staged gas-phase hydrosilylation process. The Si NP surface was nitrided in flight by injecting N2 into the afterglow of a SiH4/Ar plasma. Absorbance from the Si-N-Si bonds formed in the process indicate the encapsulating nitride is Si rich, regardless of perturbations in the plasma chemistry. The second nanostructure we have investigated in this work is graphene oxide, which has been proposed as an economic precursor for the production of graphene through reduction using a variety of chemical and thermal treatments. Although the properties of the reduced GO are improved relative to the initial fully oxidized GO, these properties are limited by the presence of residual oxygen functional groups on the basal plane and defects that form through the reduction process. Presently, reduction processes cause oxygen to leave the surface with an underlying carbon atom, introducing a defect. We have experimentally demonstrated a new method where oxygen is removed from the GO surface with carbon monoxide (CO) without introducing defects. Moreover, we have used in situ ATR-FTIR and Raman spectroscopies to demonstrate that CO can actually heal defects present in the initial GO material that form from the initial oxidation and exfoliation of the parent graphite. Our in situ ATR-FTIR spectroscopy results confirm reduction of key functional groups on the GO surface consistent with reaction pathways calculated from large scale molecular dynamics simulations.
Rights
Copyright of the original work is retained by the author.
Collections