Mechanisms of diversity maintenance, resilience, and niche differentiation in activated sludge microbial communities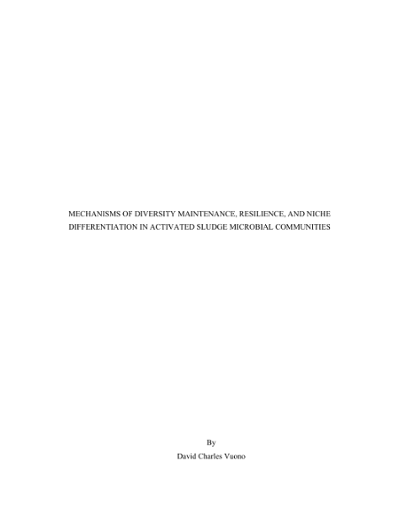 Name:
Vuono_mines_0052E_10537.pdf
Size:
14.02Mb
Format:
PDF
Description:
Mechanisms of diversity mainte ...
Advisor
Drewes, Jörg E.
Munakata Marr, Junko
Abstract
Scarcity of potable water is a major threat to human civilization, particularly in semi-arid and arid regions of the world. As a consequence, water reclamation and reuse of treated wastewater has received more attention. Local reuse of reclaimed water that is tailored to local needs will be essential in cities because of greater population densities. The activated sludge process was chosen to investigate if new operational strategies could facilitate tailored reuse of reclaimed water because it has been applied under many operational configurations. However, alterations of operational conditions within the same biological nutrient removal treatment plant have not been tested for the intentional retention of nutrients in treated wastewater. Thus, the consequences of changing treatment conditions on biological and engineered operational parameters in a treatment plant are unknown, specifically the resilience of functionally important microorganisms involved in the removal of nutrients or trace organic chemicals. In this dissertation, a variety of genomic molecular techniques such as massively-parallel DNA/RNA sequencing are used to phylogenetically reconstruct activated sludge microbial community assemblages in a full-scale active sludge wastewater treatment bioreactor that is configured as a sequencing batch membrane bioreactor (SBMBR). The SBMBR system, located at the Colorado School of Mines' Water Reclamation Test Site Mines Park, was operated under different bioreactor set-points through time to test fundamental and applied questions in the fields of microbial ecology and environmental engineering. The key findings of each research chapter are as follows: Chapter 2) Adjustments in aeration strategy can be used to elevate nutrient concentrations in the effluent of an SBMBR without adverse effects on bioreactor operation. Chapter 3) Bioreactor performance in an SBMBR is resilient to long-term disturbances. Abundant bacterial populations recover from the disturbance more than rare populations. Chapter 4) A long-term disturbance allows for immigrating bacteria to colonize and establish into an activated sludge community. In some cases, newly established colonizers become abundant community members post disturbance. Chapter 5) Bacterial populations within a stable treatment process exhibit distinct activity signatures that correspond to fluctuations in redox conditions.
Rights
Copyright of the original work is retained by the author.
Collections