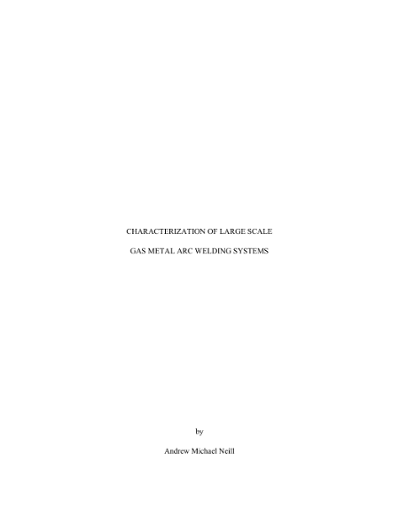 Name:
Neill_mines_0052N_10414.pdf
Size:
1.580Mb
Format:
PDF
Description:
Characterization of large scale ...
Advisor
Steele, John P. H.
Abstract
It is often the case that newly assembled robotic welding systems that use gas metal arc welding do not perform as expected. This is often due to a lack of knowledge about the intrinsic characteristics of the welding system. The objective of this project is to provide an understanding and a methodology of characterizing large-scale arc welding systems and to provide a way to improve calibration of these systems. The results from this project demonstrate that most welding work cell calibration error is due to incorrect feedback in the welding power supply's sensing system, usually caused by unaccounted for voltage drops in the welding loop. The problem can be resolved by following special work cell design criteria, altering the voltage feedback, or recalibrating the power supply with the entire system. The findings presented here will give manufacturers the ability to standardize their work cells which will provide more consistent welding and reduced programming time because welding parameters will not have to be adjusted due to poor calibration.
Rights
Copyright of the original work is retained by the author.
Collections