Evaluating best management practice scenarios in Ballona Creek watershed using EPA's SUSTAIN model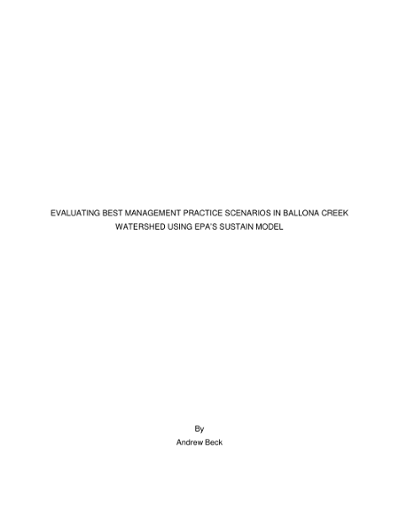 Name:
Beck_mines_0052N_10459.pdf
Size:
1.575Mb
Format:
PDF
Description:
Evaluating best management ...
Abstract
Urbanization's effects on the hydrologic cycle have been widely documented. In addition, anthropogenic activities associated with urbanization have impacted water quality in receiving water bodies, with more exaggerated effects in urban, arid climates. The EPA and other governmental agencies have advocated the use of Best Management Practices (BMPs) to mitigate urbanization's impact on the hydrologic cycle and water quality. The City of Los Angeles is completing implementation plans for mitigating pollutants in each of its watersheds in order to identify the best locations for potential BMP projects. However, the ability of distributed and regional BMPs to adequately address water quality objectives has not been rigorously studied at the watershed scale. The current research utilizes EPA's SUSTAIN model to quantify the impacts of BMP implementation in a highly urbanized watershed in Los Angeles. The model is calibrated and validated to measured flow and water quality storm events as well as annual runoff volumes and pollutant loads. The model outputs rendered a correlation coefficient of 0.99 for annual discharge volumes for the 5-year validation period. In addition, storms larger than 0.2" of precipitation modeled well rendering a Nash-Sutcliffe error of 0.95 for runoff volumes while peak discharges had an NSE of 0.89. Seven BMP types are physically modeled with five BMP types being optimized based on a 30-40% average annual metal load reduction. The number of BMPs are optimized using SUSTAIN's non-dominated sorting genetic algorithm (NSGA-II) to generate cost effectiveness curves for varying management and implementation scenarios. Results indicate that dry weather TMDL exceedances can be reduced by 80% to 99% while also accomplishing a 10% to 50% reduction in wet weather TMDL exceedances. Secondary benefits, such as flood protection and groundwater recharge are also quantified indicating a reduction in peak runoff of 20-50% with potential groundwater recharge of 12,000-30,000 ac-ft annually.
Rights
Copyright of the original work is retained by the author.
Collections