Understanding rock quality heterogeneity of Montney shale reservoir, Pouce Coupe field, Alberta, Canada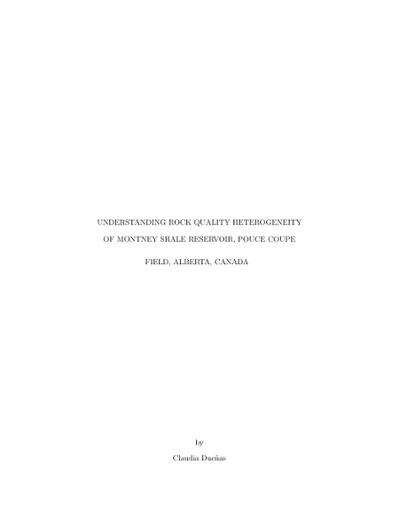 Name:
Duenas_mines_0052N_10446.pdf
Size:
11.31Mb
Format:
PDF
Description:
Understanding rock quality ...
Advisor
Davis, Thomas L. (Thomas Leonard), 1947-
Abstract
Understanding the lateral heterogeneity of unconventional plays prior to hydraulic fracturing is important for hydrocarbon production and recovery. Lateral and vertical variability can be affected by composition and textural variation of the rock, which define the rock quality. To characterize the lateral and vertical heterogeneity of rock quality (composition) of the Montney Shale reservoir at Pouce Coupe, Alberta at different scales I conducted a multi-attribute analysis of wells logs integrated with post-stack and pre-stack inversion of a baseline multicomponent seismic survey. Cluster analysis was performed in four wells using the well logs that are most affected by composition. The cluster analysis provides more representative upscale input parameters for reservoir characterization that can be compared with seismic results. The result of this cluster analysis has indicated a lateral variation of composition of the unit C to the east side of the area, where six clusters were chosen and two of them have good petrophysical rock properties that were tied with core data. Post-stack and pre-stack inversions of the baseline of the multicomponent seismic data were performed using constrained sparse spike inversion (CSSI). Pre-stack results shows similar results for the P-impedance, however, there is an improvement in the accuracy of the estimated P-impedance from the pre-stack CSSI (compared to well log P-impedance). The results of P-impedance and S-impedance show the same strong change on the east side of the survey that was detected with the cluster analysis. Crossplots of elastic properties such as Lambda-rho and Mu-rho combined with the results of cluster analysis helped to identify the areas of better rock quality in the 3D seismic. The integration of this heterogeneity analysis with the production profile of the two horizontal wells in the area shows that the lithology has a major influence on the rock quality of the Montney interval. The combined interpretation of this work with an understanding of the natural fracture system and the stress state of the reservoir can provide a rock quality index (RQI). This RQI can aid in future exploration and operational development of the Montney play and other shale reservoirs worldwide.
Rights
Copyright of the original work is retained by the author.
Collections