Simple approach for producing colloidal noble metal nanocrystals: alternating voltage induced electrochemical synthesis, A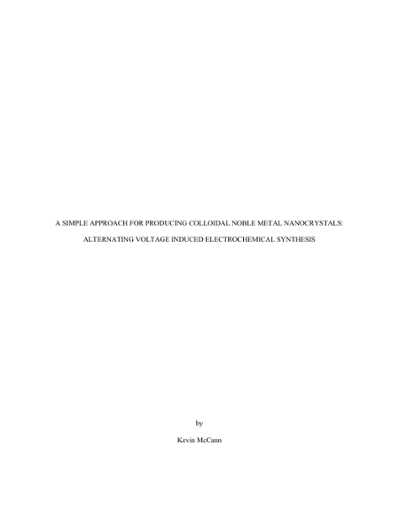 Name:
McCann_mines_0052N_10336.pdf
Size:
5.295Mb
Format:
PDF
Description:
A simple approach for producing ...
Abstract
Intense research has been focused on developing bottom-up nanocrystal synthesis techniques to obtain nanocrystals with sophisticated compositions and enhanced perfomances. Three popular methods are: 1) the reduction of metal complex ions or molecules with selected reducing agents, 2) the decomposition of metal compounds at elevated temperatures, and 3) the electrochemical reduction of metal ions using specialized potentiostats. The first two require expensive metal salt precursors while the last requires specialized potentiostats and either employ a single sacrificial electrode or metal salt precursors. To resolve these issues, we have focused on a facile and generic approach to generate nanocrystals by an alternating voltage induced electrochemical synthesis (AVIES) method. Nanocrystals are produced when an alternating voltage is applied by a common laboratory transformer to two sacrificial electrodes that are inserted in an electrolyte solution containing capping ligands. This work focuses on the ability of the AVIES approach to synthesize Au, Pd, and Pt noble metal nanocrystals. The nanocrystals synthesized were found to be dependent on the electrolyte identity, capping ligand, applied voltage, reaction temperature. The ability of AVIES to produce alloyed nanocrystals starting with alloyed electrodes will be discussed. The AVIES approach requires neither expensive metal compounds nor specialized instruments, is environmentally benign, and can be easily adoptable to any research lab.
Rights
Copyright of the original work is retained by the author.
Collections