Advanced ICP-MS methods for examining the stability of silver nanoparticles in natural waters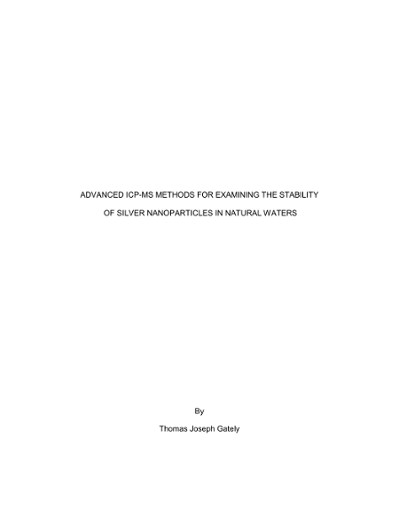 Name:
Gately_mines_0052N_10337.pdf
Size:
1.013Mb
Format:
PDF
Description:
Advanced ICP-MS methods for ...
Advisor
Ranville, James F.
Higgins, Christopher P.
Abstract
The rapid growth of nanotechnology, specifically the incorporation of engineered nanoparticles (ENP's) into various products, will almost certainly lead to their release into the environment. Silver nanoparticles (nano-Ag) have seen widespread use in consumer products as a result of their antimicrobial properties. Silver ion (Ag+), is known to be toxic to a large variety of organisms, especially aquatic species. The release of Ag+ from nano-Ag under relevant environmental conditions is not currently well understood, as many studies use unrealistically high concentrations. This is in part due to limitations in the techniques used to detect and characterize ENP's. Using Single Particle Inductively Coupled Plasma Mass Spectrometry (SP-ICP-MS), a newly developed method to examine ENPs we are able to detect and quantify both nano-Ag and Ag+ at part per trillion concentrations, considered a realistic environmental level. In a collaborative study with the Trent University, PVP-coated 50 nm nano-Ag particles were introduced into several mesocosms within a lake. Their fate (particle number, dissolution) was monitored by a number of methods including SP-ICP-MS, FFF-ICPMS, and total Ag analysis. Before the experiment could proceed a preservation method was needed to allow sample transport from the Ontario Lake to the lab in Colorado. Flash freezing using liquid nitrogen was found to be an effective method for preserving the particles that there was minimal change to the particle size and number. The samples were stored at -80 degrees C until the time of analysis. 60 nm PVP capped particles were initially found to be 58.3 ± 5.3 nm and the flash frozen particles were found to be 58.4± 5.2 nm. A series of lab experiments were also performed using lake water in which the stability of nano-Ag particles was examined. The particles were found to decrease in diameter from 50 nm to 36 nm over the course of seven days. Particle number also decreased over the course of the experiment illustrating that further work on methodology is required. Typical decreases in particle number were on the order of 60% over the course of a week. The rate of particle loss/transformation was significantly slower when lake waters were filtered suggesting a role for other suspended sediments or biota in the process. Sterilization using autoclaving provided further evidence for the role of biota but results showed complex behavior depending on the methods used (e.g. filtration and autoclaving). This study further demonstrates the utility of SP-ICP-MS to detect, quantify and characterize ENPs, but further work is needed to fully understand the processes controlling nano-Ag stability in aquatic environments.
Rights
Copyright of the original work is retained by the author.
Collections