GIS procedure for assessing abandoned coal mine subsidence hazard, Boulder-Weld counties, Colorado, A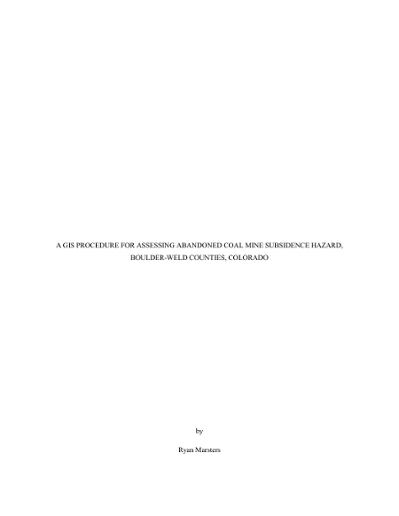 Name:
Marsters_mines_0052N_10342.pdf
Size:
3.471Mb
Format:
PDF
Description:
A GIS procedure for assessing ...
Advisor
Higgins, Jerry D.
Abstract
The objective of this research is to explore a new GIS-based procedure for predicting coal mine subsidence hazard by geographically relating data from past subsidence investigations. A coal mine subsidence susceptibility map was created using the procedure for the Tri-Towns communities, Weld County, Colorado, much of which is underlain by abandoned coal mines. The literature from past mine subsidence investigations was evaluated for causative indicators and their applicability to the project. The primary indicators utilized were extent of mining, depth of mined interval, percentage of claystone in the overburden, estimated condition of mine workings, groundwater withdrawal, and subsidence event history. The elapsed time since a mine was closed is another traditional subsidence factor; however, it was ruled out as a predictive factor since the last mine closed in 1979 and the primary failure period of 15 years has passed. A drilling program helped to assess the factors in some locations. Past site investigation data used in the project, primarily an extensive borehole data compilation, were available at the Mine Subsidence Investigation Center, a component of the Colorado Geological Survey (study sponsors). A few different GIS techniques were explored for combining the data and the selected procedure was developed to reduce bias resulting from incomplete, unknown, or unreliable data. The technique combines depth to workings and percent claystone borehole extrapolations using the Fuzzy Overlay toolset. The overlay is then factored on a mine-by-mine basis incorporating groundwater withdrawal and mine void presence. The resulting mosaic is then reclassified into an interpretive map displaying the severity of abandoned mine subsidence hazard. The model was calibrated based on observed mine condition and validated through an analysis of past subsidence events. A map of subsidence hazard was constructed that may aid in city planning and future subsidence studies
Rights
Copyright of the original work is retained by the author.
Collections