Physically based dynamic modeling of planar anode-supported SOFC cogeneration systems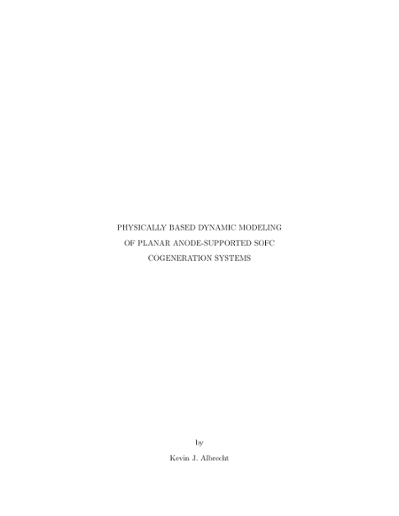 Name:
Albrecht_mines_0052N_10324.pdf
Size:
7.367Mb
Format:
PDF
Description:
Physically based dynamic modeling ...
Abstract
Solid oxide fuel cells (SOFC) have been a key area of academic research interest over the past decade due to their high electrical efficiency, fuel flexibility, and high quality waste heat. These benefits suggest that SOFCs could play a significant role as a future distributed generation, combined heat and power source if life cycle cost can be reduced or significant incentives such as a carbon tax are implemented. At the current point in SOFC development, degradation effects limit the operational lifetime of SOFCs. Other research efforts have suggested that the dynamic operation of SOFCs could improve the economics in addition to reducing degradation. Thus the development of high fidelity modeling tools for the assessment of dynamic SOFC system operation is important to determine the potential load-following ability of SOFC systems. One of the goals of this research is to identify the required level of fidelity necessary for a dynamic SOFC system-level simulation tool. The channel-level steady-state simulation and dynamic response to step changes in current density are presented for a one-dimensional and 'quasi' two-dimensional model. The results indicate the predicted temperature gradient is less severe when implementing a higher fidelity 'quasi' two-dimensional model. Additionally, the modeling and sizing of the balance of plant components to simulate off-design and system dynamics are presented. The effects of dynamic balance of plant components are compared to the typically accepted steady-state models. The incorporation of the dynamic balance of plant components are shown to have a significant effect on the dynamics of the waste heat recovery, where the power dynamics are only minimally affected. Finally, the steady-state performance at off-design conditions and dynamic response to step changes in the net system power are presented to assess the potential load-following ability of a combined heat and power SOFC system.
Rights
Copyright of the original work is retained by the author.
Collections