Integrated reservoir characterization and modeling in support of enhanced oil recovery for Bakken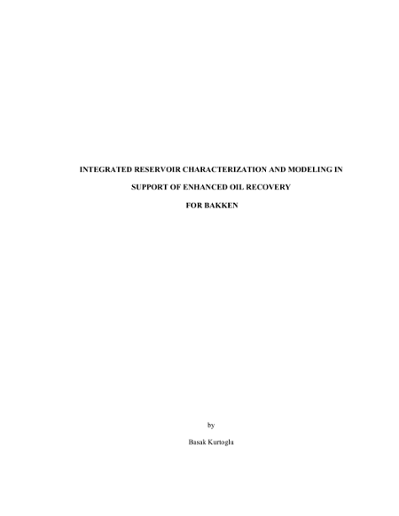 Name:
Kurtoglu_mines_0052E_10341.pdf
Size:
11.88Mb
Format:
PDF
Description:
Integrated reservoir character ...
Abstract
This research presents an integrated reservoir characterization study of the Bakken fields in North Dakota. First, the Bakken petroleum geology is studied to evaluate the flow-related properties of the hydrocarbon-bearing formations from core scale to field scale. This part of the research focuses on the Middle Bakken formation which has been the target for horizontal drilling in Williston Basin. Second, the fluid flow hierarchy in the Middle Bakken formation is determined by comparing the differences between permeability measured from laboratory core experiments and field tests. Effective permeability measurements from well tests infer the reservoir contains both micro and macro fractures. Core permeability measurement alone does not provide the fluid flow characterization. In addition, laboratory flow experiments to determine basic core properties such as porosity, permeability, wettability, pore size, mineralogy, and fluid saturations and specific laboratory tests with low salinity brine and CO2 are conducted. Third, geological and petrophysical properties are integrated into a compositional dual-porosity reservoir model to simulate production performance. Time analysis of flow and pressure over the history of a well, supplemented by the pressure and rate transient analysis of shorter-duration well tests, provides the most important flow characterization data for reservoir modeling. The reservoir model has a flow hierarchy focusing on the stimulated reservoir region with the nanometer-scale matrix pores connected to a network of interconnected micro-fractures and macro-fractures and eventually connecting to the wellbore via hydraulic fractures. Reservoir heterogeneity is addressed using a heterogeneous matrix and fracture petrophysical model which combines the core analyses and well log data. The integrated modeling approach is used for planning of production options and evaluating enhanced oil recovery strategies. Finally, the technical feasibility of producing more oil from Bakken reservoir by waterflooding and CO2 injection is investigated. Several simulation scenarios are presented to provide insight about the injected fluid, injection scheme, well pattern, injector well completion, and well spacing. In summary it is concluded that: (1) the difference in the magnitude of core-measured permeability (10[superscript -3]-10[superscript -5] md) and field-measured permeability (10[superscript -1]-10[superscript -2] md) and the presence of a micro-fracture network in Bakken are the main reasons for facilitating oil production from Bakken. Furthermore, for enhanced oil production, the micro-fracture network is the main pathway for delivering water or CO2 to the tight matrix of the Bakken formation. (2) Dual-porosity modeling is the prudent approach for simulating primary production and improved oil recovery from Bakken because of the flow hierarchy; that is, flow from matrix to microfracture and microfracture network, then to the multi-stage hydraulic fractures, and eventually to the horizontal wellbore. (3) CO2 injection, via injector-producer well pattern, can enhance oil production but, for economic viability, recycling of the produced CO2 is absolutely necessary. (4) Oil production by CO2 injection is higher than by waterflooding, but field pilot tests are needed before any major field project is implemented.
Rights
Copyright of the original work is retained by the author.
Collections