Infrared thermographic defect detection in fuel cell gas diffusion electrodes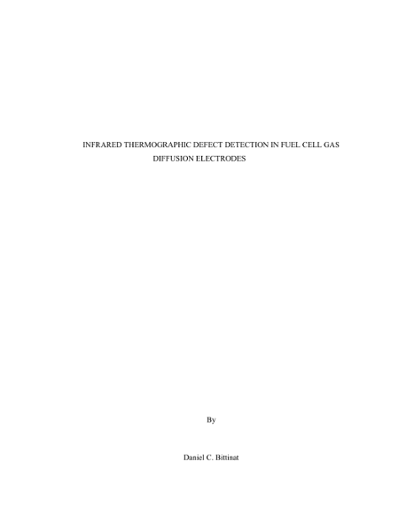 Name:
Bittinat_mines_0052N_10346.pdf
Size:
2.274Mb
Format:
PDF
Description:
Infrared thermographic defect ...
Abstract
Polymer Electrolyte Membrane fuel cells (PEMFCs) are energy conversion devices that offer high power densities and high efficiencies for mobile and other applications. Successful introduction into the marketplace requires addressing cost barriers such as production volumes and platinum content. The platinum-catalyst employed in PEMFC electrodes is a primary cost driver for manufacturing. For cost reduction, it is vital to minimize waste during large-scale production of electrodes, including gas diffusion electrodes (GDEs), by developing quality control (QC) diagnostics suitable for a continuous manufacturing environment. In this work, the development of an infrared thermography QC diagnostic for a GDE manufacturing web-line is conducted. A non-flammable H2/O2 gas mixture in N2 was passed through the GDE, reacting exothermically with the platinum catalyst, causing the GDE temperature to rise. Infrared imaging of the variations in the GDE's thermal profile revealed manufacturing defects and nonuniformities in the catalyst loading. Experiments with a moving substrate were conducted to demonstrate the applicability of the diagnostic for real-time web-line inspection. Initial experiments used a stationary enclosed testing manifold made of brass to quantify the thermal response caused by the gas-catalyst reaction. This manifold allowed for a controlled environment and to force all gas through the GDE. Experiments with the stationary manifold demonstrated successful detection of GDE defects. The GDE was then suspended above the manifold to simulate open-air testing. Although the thermal response decreased with increased offset distance, successful defect detection was demonstrated. Next, a perforated-tube gas knife was fabricated to deliver a uniform gas flow across the GDE surface in a line pattern. The gas knife uniformity was tested by microscope inspection of the gas knife holes and a hot plate cooling experiment. Finally, the diagnostic was demonstrated on a moving GDE by constructing a bench top roller system with a height and angle-adjustable gas knife holder. The GDE thermal response was tested under varying gas knife height, angle, flow-rate, and hydrogen concentrations. The optimized QC diagnostic was then demonstrated under conditions typical of a manufacturing environment, resulting in the successful detection of a 2 mm square defect on a GDE moving at 30 feet per minute. These results indicate that this QC diagnostic for detecting defects on GDEs is effective.
Rights
Copyright of the original work is retained by the author.
Collections