Spatial mapping of the electrical and elastic properties of granular media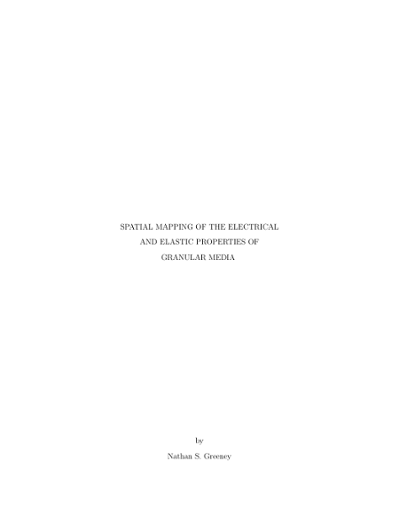 Name:
Greeney_mines_0052E_10335.pdf
Size:
44.00Mb
Format:
PDF
Description:
Spatial mapping of the electrical ...
Advisor
Scales, John Alan
Abstract
The goal of this research is to design a set of methods to spatially map the electrical and physical properties of a spatially complex granular material. Aiming for a resolution of sub-millimeter allows the the possibility for developing a relationship between the electrical and physical properties at this scale as well as the ability to upscale to larger scales. Spatial mapping at this scale fills a unique niche between existing methods in the microscopic and macroscopic scales. Using methods analogous with optical near-field scanning, we develop a millimeter near-field scanning system. This system spatially scans thin samples between two dielectric probes to map the spatially varying dielectric properties of the sample. Using a millimeter wave vector network analyzer allows us to directly measure the phase and amplitude of the reflected and transmitted fields allowing mapping of both the real and imaginary parts of the dielectric properties. With this system we achieve a resolution of 100 [mu]m (smaller than [lambda]/10). This resolution is not limited by diffraction but limited by the size of our probe and has the possibility of improvement. In order to develop a high resolution spatial mapping of the physical properties we developed an unconventional laser ultrasound scanning system. This system measures the travel time of shear waves directly through the sample to localize measurements allowing high resolution mapping of the spatially varying elastic properties of the sample. Using a focused infrared laser and laser Doppler vibrometer on opposite sides of a thin sample, we are able to achieve sub-millimeter resolution limited by the spot size and thickness of the sample. In testing these systems we looked at various applications. We have mapped the mineralogy of heterogeneous granite and have looked into a correlation between electrical and mechanical properties properties. By looking at maps of oil shale we are able to see the spatial hydrocarbon content before and after hydropyrolysis as well as the layering structure which could be used for stratigraphy applications. Using the millimeter wave system we have looked at porcelanite from the Monterey formation in California to map the wettability of oil and brine. And using the laser ultrasound system measured the elastic properties of explosive simulants to aid in detection and characterization of improvised explosive devices.
Rights
Copyright of the original work is retained by the author.
Collections