Fabrication, characterization, and hydrogen permeation in [BaCe_x Zr_(0.9-x) Y_0.1 O_(3-[delta])] prepared by solid-state reactive sintering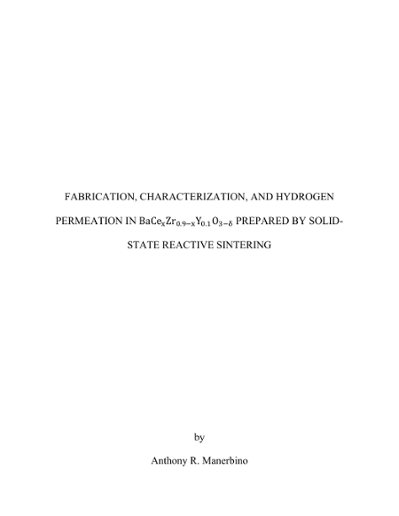 Name:
Manerbino_mines_0052E_10353.pdf
Size:
2.866Mb
Format:
PDF
Description:
Fabrication, characterization, ...
Advisor
Sullivan, Neal P.
O'Hayre, Ryan P.
Abstract
This dissertation focuses on the fabrication and characterization of BCZY for hydrogen-separation applications. The structural and hydrogen-permeation properties of a series of proton-conducting oxides based on the solid solution of BaZrO3-BaCeO3 as an emerging class of ceramic hydrogen-separation membranes were investigated. Yttrium was used as the specific dopant; the ceria and zirconia contents were varied from 0 [less than or equal to] x [less than or equal to] 0.4 BaCe_x Zr_(0.9-x) Y_0.1 O_(3-[delta]). Materials were prepared by solid-state reactive sintering from both BaCO3 and BaSO4 barium precursors. The cubic phase was observed over all ranges of the differing ceria to zirconia ratios. In an effort to decrease the thickness and increase the flux of hydrogen through these membranes, two-phase membrane-support tubes were fabricated from 65 wt-% NiO / 35 wt-% BCZY27, and then spray coated with BCZY27 membranes; the active area of these thin BCZY27 membranes approached 75 cm[superscript 2]. Hydrogen-permeation measurements were executed utilizing two different measurement techniques. The first technique used mass spectroscopy to measure the flux of hydrogen through the membrane under a hydrogen partial-pressure difference. The second technique used a method of titration to indirectly calculate hydrogen flux across the membrane. Results from both techniques reveal that BCZY27 had thermally activated hydrogen transport at temperatures above 700 °C. This phenomenon is attributed to ambipolar diffusion of protons and electrons. A simple computational model and Arrhenius analysis were used to compare and understand the observed results. These thin BCZY27 membranes on tubular porous Ni-BCZY27 supports demonstrated in this dissertation are the first realization of this architecture in high-temperature proton-conducting ceramics.
Rights
Copyright of the original work is retained by the author.
Collections