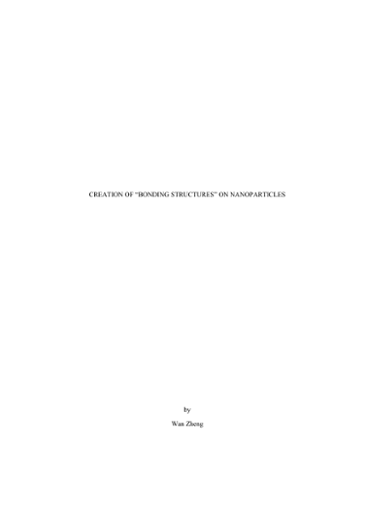 Name:
Zheng_mines_0052N_10326.pdf
Size:
1.920Mb
Format:
PDF
Description:
Creation of "bonding structures" ...
Abstract
Nanoparticles can be used as a new type of fundamental building blocks to construct macroscopic materials, and hierarchically organized nanoparticles often show enhanced properties originated from the collective interactions among these individual nanoscale building blocks. Taking one step further, colloidal molecules with well-defined architectures made by directed assembly of nanoparticles could serve as the basic structural units of more complex functional materials. This is highly desirable but challenging due to the lack of "bonding structures" on nanoparticles. In this thesis, we aim to create "bonding structures" on nanoparticles by modifying them with heterogeneously functionalized polymers bearing "click" moieties. We hypothesize that by controlling the location of "click" recognition pairs on nanoparticles, well-defined polymer linkers, nanoparticle geometry and reaction stoichiometry, the "directionality", "bonding length", and "valency" characteristics of real chemical bonds could be introduced on as-synthesized nanoparticles, which will help organize nanoparticles into colloidal molecules via highly specific and efficient "click" reactions. Using gold nanoparticles as models, we show here that well-defined, heterogeneously functionalized polymer chains bearing "click" recognition pairs can be prepared, and subsequently used to modify gold nanoparticles at controlled locations. Our future work is to study the broad utility of this strategy on creating "bonding structures" on nanoparticles to transform them into "artificial atoms", as well as the system design to assemble these nanoparticles into well-defined colloidal molecules.
Rights
Copyright of the original work is retained by the author.
Collections