Establishment and characterization of a bioenergy-focused microalgal culture collection using high-throughput methodologies, The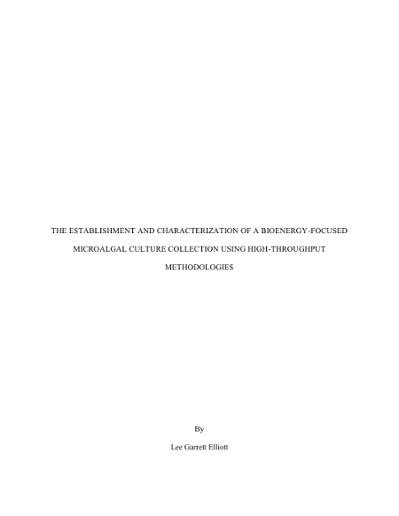 Name:
Elliott_mines_0052E_10340.pdf
Size:
9.629Mb
Format:
PDF
Description:
The establishment and characte ...
Advisor
Posewitz, Matthew C.
Spear, John R.
Abstract
A promising renewable energy scenario involves utilizing microalgae as biological solar cells to capture the energy in sunlight and then harvesting the biomass for renewable energy production. Through photosynthesis photons are captured by light-sensitive pigment molecules and used to create a cellular chemical energy gradient. Microalgae ultimately use this energy gradient to drive their metabolism by reducing inorganic carbon into renewable, energy-rich organic hydrocarbon stores such as triacylglycerols (TAGs). These valuable molecules act as a cellular energy reserve, readily drawn from when required, often forming large oil-bodies within microalgal cells that can be abundant in certain oleaginous species. This is important for biofuel production because lipids can be extracted from biomass and then converted into a variety of biofuels such as renewable diesel and jet fuel. Thus, from a biofuels perspective, maximizing lipid productivity in selected microalgal feedstock strains is considered essential to the development of an economically viable algal biofuels industry. To achieve this, many current research and development efforts are directed towards genetically engineering well-characterized microalgae to optimize TAG production; however, this approach is a time-consuming, costly prospect and the number of well-characterized strains is relatively few, especially when compared to the number of known extant species. Alternatively, microalgal feedstock optimization could be more readily accomplished by taking advantage of the prodigious natural diversity of microalgae in the environment and identifying native strains of microalgae that, through natural selection, already possess key metabolic traits necessary for commercial feedstock development. Formulated on this premise, a collaborative project between the National Renewable Energy Laboratory (NREL) and the Colorado School of Mines (CSM) recently established and cryopreserved a clonal microalgal culture collection containing 360 unique strains with preliminary data regarding lipid accumulation and the growth potential of select isolates. The goal of this work has been to 1) perform a far more detailed characterization of the algal culture collection by developing high throughput screening procedures and tools for identifying fast-growing, oleaginous strains; and 2) gather further insight into the microalgal diversity found in the southwestern United States. Herein is described in detail the rationale, methods, results and conclusions of these efforts.
Rights
Copyright of the original work is retained by the author.
Collections