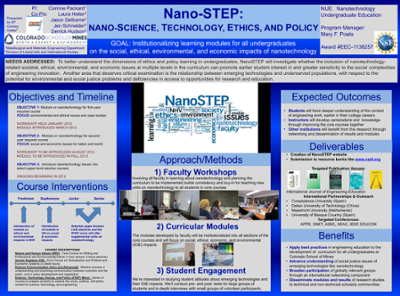 Name:
nanostep-poster-NSF-EEC-2012.pdf
Size:
1.051Mb
Format:
PDF
Description:
NanoSTEP: nano-science, technology, ...
Date issued
2012-03
2012-03
Abstract
This poster, presented at the NSF EEC Awardees conference in March 2012, explains the funded project called NanoSTEP (Nano-Science, Technology, Ethics, and Policy) at the Colorado School of Mines. It highlights the project objectives and timeline, classroom interventions and modules, proposed methods for the project, publication and dissemination plans, and expected outcomes.
Rights
Copyright of the original work is retained by the authors.