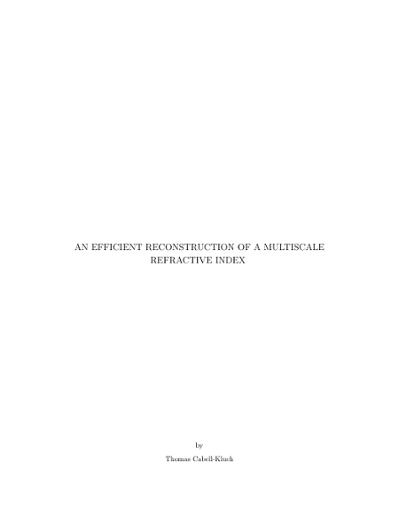 Name:
CabellKluch_mines_0052N_10564.pdf
Size:
1.197Mb
Format:
PDF
Description:
An efficient reconstruction of ...
Advisor
Ganesh, Mahadevan
Abstract
The ability to accurately correct for the effects of strong atmospheric turbulence on light has been a major area of research in astronomy and adaptive optics. Atmospheric turbulence induces an optical region with inhomogeneous refractive index. The main focus of this research is to efficiently reconstruct the refractive index using observed/simulated optical phase aberrations. Our method is based on the tomography associated with these aberrations. In this work, assuming the turbulent atmosphere is of Kolmogorov type, we extend the range of the reconstruction. We demonstrate the approach for simulated data from an astronomy model. The limitations of the process are explored to determine a required range of parameters to reconstruct an accurate solution. The method is tested against increasing refractive index aberrations and imaging scenarios. In addition, the method is parallelized and optimized and its parallel performance is characterized. Parallel performance is characterized for CPU systems as well as for heterogeneous computing environments comprising of GPUs and CPUs.
Rights
Copyright of the original work is retained by the author.
Collections