Amplitude inversion of fast and slow converted waves for fracture characterization of the Montney Formation in Pouce Coupe field, Alberta, Canada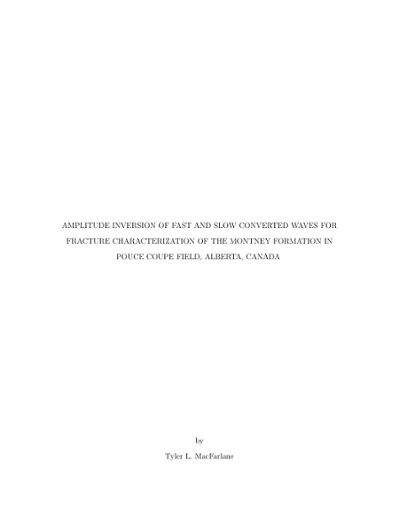 Name:
MacFarlane_mines_0052N_10560.pdf
Size:
5.432Mb
Format:
PDF
Description:
Amplitude inversion of fast and ...
Advisor
Davis, Thomas L. (Thomas Leonard), 1947-
Abstract
The Montney Formation of western Canada is one of the largest economically viable gas resource plays in North America with reserves of 449TCF. As an unconventional tight gas play, the well development costs are high due to the hydraulic stimulations necessary for economic success. The Pouce Coupe research project is a multidisciplinary collaboration between the Reservoir Characterization Project (RCP) and Talisman Energy Inc. with the objective of understanding the reservoir to enable the optimization of well placement and completion design. The work in this thesis focuses on identifying the natural fractures in the reservoir that act as the delivery systems for hydrocarbon flow to the wellbore. Characterization of the Montney Formation at Pouce Coupe is based on time-lapse multicomponent seismic surveys that were acquired before and after the hydraulic stimulation of two horizontal wells. Since shear-wave velocities and amplitudes of the PS-waves are known to be sensitive to near-vertical fractures, I utilize isotropic simultaneous seismic inversions on azimuthally-sectored PS[subscript 1] and PS[subscript 2] data sets to obtain measurements of the fast and slow shear-velocities. Specifically, I analyze two orthogonal azimuths that are parallel and perpendicular to the strike of the dominant fracture system in the field. These volumes are used to approximate the shear-wave splitting parameter that is closely related to crack density. Since crack density has a significant impact on defining the percolation zone, the work presented in this thesis provides information that can be utilized to reduce uncertainty in the reservoirs fracture model. Isotropic AVO inversion of azimuthally limited PS-waves demonstrates sufficient sensitivity to detect contrast between the anisotropic elastic properties of the reservoir and is capable of identifying regions with high crack density. This is supported by integration with spinner production logs, hydraulic stimulation history of the field, and microseismic. Results also show significant fracture network heterogeneity that is not typically accounted for in engineering-driven development despite a strong link to production. The main value of this work lies in the integration of fracture characterization with preceding RCP theses that defined the geomechanical model and composition of the reservoir at Pouce Coupe. Geophysical attributes that relate to the composition and natural fractures enable a more complete understanding of the reservoir and indicate that a successful well is dependent on both the hydrocarbon storage capacity of the matrix and a large permeable network of natural fractures.
Rights
Copyright of the original work is retained by the author.
Collections