Adsorption characteristics of polymer electrolyte membrane chemical degradation products and their impact on oxygen reduction reaction activity for platinum catalysts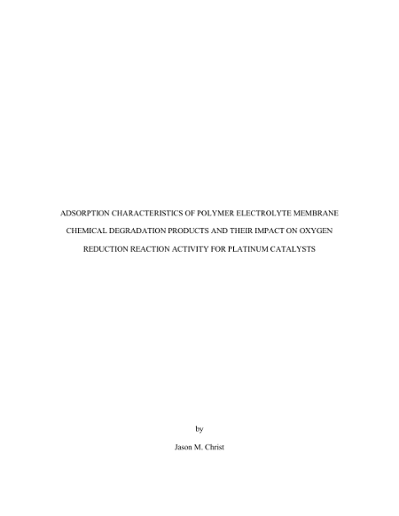 Name:
Christ_mines_0052E_10553.pdf
Size:
3.116Mb
Format:
PDF
Description:
Adsorption characteristics of ...
Abstract
Developments in membrane-electrode assembly and stack technology have significantly improved the performance of polymer electrolyte membrane fuel cells; such that systematic studies focused on improving major challenges of overall cost and durability have become increasingly important. Consequently, interest in the examination of system derived impurities and their subsequent effects on performance durability has grown. Studies involving commercial polymer electrolyte membranes and model compounds have shown that when perfluorinated sulfonic acid (PFSA) membranes are exposed to hydroxyl radicals during fuel cell operating conditions, several chemical decomposition products can be generated. Along with losses in membrane conductivity and structural integrity, such PFSA membrane degradation products may also adsorb on the platinum based electrocatalyst, possibly leading to a loss in catalyst electrochemical surface area (ECA), oxygen reduction reaction (ORR) activity, or both. This work investigates adsorption characteristics and effects from model compounds in the forms of fluorinated organic acids, representing PFSA membrane chemical degradation species, on ECA and ORR activity for platinum based electrocatalysts including polycrystalline Pt, high surface area carbon supported Pt, and extended surface Pt. A reproducible method was developed in order to investigate surface coverage and adsorption properties due to carboxylate and sulfonate functional groups, fluorocarbon chain length, and model compound concentration. Data was obtained using a variety of electroanalytical techniques including mainly cyclic and linear sweep voltammetry, and electrochemical quartz crystal microbalance analysis. Information gleaned from this work shows that reversible adsorption occurs initially through carboxylate anions, while intermolecular forces involving fluorocarbon chain length and ether and sulfonate moieties play a secondary role in molecular ordering at the electrode surface. Reversible losses in Pt electrocatalyst activity in regards to the ORR were realized most heavily for diacid compounds (greater than 44% loss in kinetic current) containing both carboxylate and sulfonate functional groups, followed by longer chain fluorinated carboxylic acids (17% loss in kinetic current). Fluorinated sulfonic acids and shorter chain carboxylic acids showed little to no effects on ORR activity at the concentrations (0.001 mM - 1 mM) studied.
Rights
Copyright of the original work is retained by the author.
Collections