Sorption and bioaccumulation of neutral and ionizable wastewater-derived contaminants of emerging concern: exposure of edible crops via solid and liquid effluent streams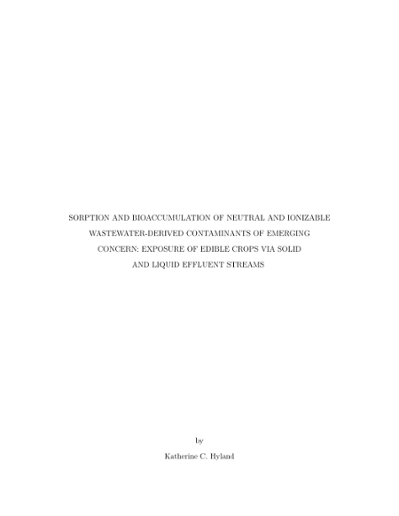 Name:
Hyland_mines_0052E_10551.pdf
Size:
2.520Mb
Format:
PDF
Description:
Sorption and bioaccumulation of ...
Advisor
Higgins, Christopher P.
Abstract
Diverse contaminants of emerging concern (CECs) are ubiquitous in waste streams. Batch sorption tests with sludge solids from wastewater treatment systems examined sorption to the solid phase of CECs during wastewater treatment. Compounds, including neutral, acidic and basic CECs, were evaluated for how sorptive behavior might differ for CECs in different states of charge. Sorption of CECs varied little between different sludges. Organic carbon normalized partition coefficients (log K[subscript oc]) were correlated with octanol-water partition coefficients (log K[subscript ow]) for nonionized CECs, and log D[subscript ow] for anionic CECs where log D[subscript ow] is greater than 2. Data were used to construct a linear free energy relationship (LFER), which suggested that predicting sorption to sludge based on K[subscript ow] values is a reasonable approach for neutral CECs, but other interactions may govern the behavior of the charged species. Greenhouse- based experiments investigated how nine CECs in reclaimed water and biosolids are taken up into edible portions of strawberry and lettuce crops. Two flame retardant chemicals, tris (1-chloro-2-propyl) phosphate (TCPP) and tris (2-chloroethyl phosphate (TCEP) and several polar pharmaceuticals accumulated in a concentration-dependent manner in lettuce (Lactuca sativa) irrigated with reclaimed water, indicating passive uptake of both neutral and ionizable chemical contaminants. Concentration-dependent accumulation of TCEP and TCPP was also observed in strawberry fruits (Fragaria ananassa). Polar and/or charged CECs can be taken up by edible crops from CEC-bearing water or soil. CECs were measured in non-edible plant compartments for calculation of accumulation metrics and relative affinity each chemical has for each plant tissue compartment. Root concentration factor (RCF) exhibited a positive correlation with D[subscript ow] regardless of crop type. This and observation of linear uptake by root tissue with aqueous concentration imply that accumulation into roots is driven by passive partitioning. Nonionizable CECs have the greatest potential for translocation from the roots to shoots. Accumulation into different tissue compartments depends on the properties of the individual contaminants. Greater D[subscript ow] species accumulate proportionately into root tissues, and nonionized CECs have a a greater potential for upward transport into shoot and fruit compartments.
Rights
Copyright of the original work is retained by the author.
Collections