Biologically active filtration for treatment of produced water and fracturing flowback wastewater in the O&G industry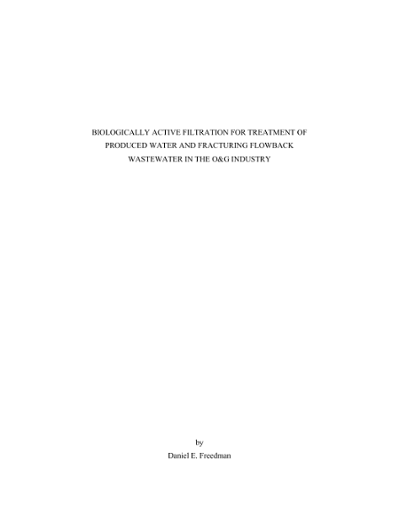 Name:
Freedman_mines_0052N_10550.pdf
Size:
587.2Kb
Format:
PDF
Description:
Biologically active filtration ...
Abstract
Sustainable development of unconventional oil and gas reserves, particularly tight oil, tight gas, and shale gas, requires prudent management of water resources used during drilling, well completion, and production activities. Economic viability of unconventional resource de-velopment can be attributed to technical advancements in horizontal drilling and hydraulic frac-turing, both of which are water-intensive operations. On average, 2 to 5 million gallons of water are required for multistage hydraulic fracturing of a single horizontal well. This raises concerns about freshwater acquisition and management of the wastewater generated. The associated risks to water resources are of major interest and concern to water utilities, stakeholders, and environ-mentalists. Mitigation of such risks can be achieved through a comprehensive water management plan that integrates robust treatment technologies aimed at recovering water for recycling in field operations. Recycling of flowback and produced water is presently becoming a more widely applied management practice, as it protects freshwater resources by eliminating surface water discharge and reducing demand on high quality sources. Recycling is potentially cost-effective because it often requires a lower level of treatment than would surface water discharge or other beneficial reuse application. Yet, significant challenges remain in rendering these waste streams amenable for reuse. Reduction of organic matter has been a notable wastewater treatment engineering chal-lenge and has limited practical opportunities for reuse. This research focuses on harnessing the propensity of microorganisms for biodegradation of organic carbon present at high concentrations in fracturing flowback and produced water. Bench-scale and pilot-scale biofiltration systems were investigated to determine adaptability of a specific biofilm and measure biodegradation of organic carbon at different operating conditions. The biologically active media was gradually acclimated to a produced water stream from the Piceance Basin. Following the successful conditioning and acclimation, up to 90% DOC removal and 80% COD removal was achieved. Results from the performance evaluation demonstrated scalability and flexibility of the system to maintain treatment efficiency, as well as the impacts of variable operating conditions.
Rights
Copyright of the original work is retained by the author.
Collections