Development of an analytical groundwater contaminant transport model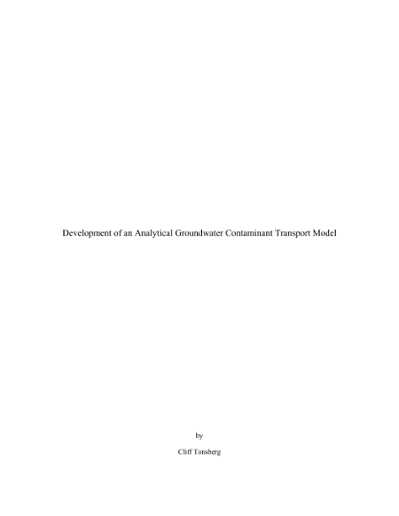 Name:
Tonsberg_mines_0052N_10547.pdf
Size:
2.498Mb
Format:
PDF
Description:
Development of an analytical ...
Advisor
McCray, John E.
Geza, Mengistu
Abstract
Onsite wastewater systems (OWS) are utilized by approximately 20% of US households. Domestic wastewater contains a variety of contaminants that may result in degradation of water resources if the OWS is improperly designed, installed or operated. There is a large diversity in the contaminants composing the wastewater stream from household though nutrients (nitrogen, phosphorus, potassium) are the most ubiquitous. Within the underlying aquifers, nitrogen is of primary concern because of its mobility as well as its effects on human and ecosystem health. Regulators, engineers and scientist working in the OWS industry require simple-to-use tools to evaluate the performance of an OWS. Currently the tools that are available to these professionals consist of complex mathematical models that are neither widely available nor easy to use. An analytical groundwater contaminant transport model (the aquifer model) was developed to provide professionals with robust simple-to-use tools to evaluate the performance of an OWS. The aquifer model uses an analytical contaminant transport equation that is ideally suited for an OWS that will simplify user input. The aquifer model Graphical User Interface (GUI) will facilitate user interaction making the model easy-to-use. In addition, the aquifer model is coupled with the Soil Treatment Unit Model (STUMOD) which will provide the user with the ability to seamlessly evaluate contaminant transport through the vadose zone and aquifer underlying an OWS. The performance of the aquifer model has been evaluated through calibration to field data collected down gradient of an OWS installed at a Florida field site. Calibration results from the aquifer model have also been compared to calibration results from two complex numerical models (MODFLOW/MT3D). Calibration of the aquifer model to field data showed excellent results with a correlation coefficient of 0.66. The numerical models in contrast returned correlation coefficients below 0.1 when compared to field data. Calibrated parameter values for the aquifer model and the numerical models are within the expected range though the calibrated numerical models did not successfully replicate observed nitrate concentrations. Results from the evaluation of the aquifer model show that it is an effective tool for evaluating contaminant transport in surficial aquifer beneath an OWS when compared to complex numerical models.
Rights
Copyright of the original work is retained by the author.
Collections