Harvesting bioenergy with rationally designed complex functional materials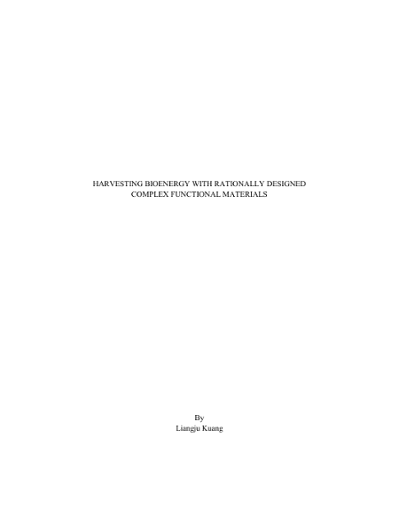 Name:
Kuang_mines_0052E_10546.pdf
Size:
13.22Mb
Format:
PDF
Description:
Harvesting bioenergy with ...
Abstract
A key challenge in renewable energy is to capture, convert and store solar power with earth-abundant materials and environmentally benign technologies. The goal of this thesis is to develop rationally designed complex functional materials for bio-renewable energy applications. On one hand, photoconversion membrane proteins (MPs) are nature's nanoengineering feats for renewable energy management. Harnessing their functions in synthetic systems could help understand, predict, and ultimately control matter and energy at the nanoscale. This is particularly enticing in the post-genome era as recombinant or cell-free expression of many MPs with high yields becomes possible. However, the labile nature of lipid bilayers renders them unsuitable for use in a broad range of engineered systems. A knowledge gap exists about how to design robust synthetic nanomembranes as lipid-bilayer-mimics to support MP functions and how to direct hierarchical MP reconstitution into those membranes to form 2-D or 3-D ordered proteomembrane arrays. Our studies on proteorhodopsin (PR) and bacterial reaction center (BRC), the two light-harvesting MPs, reveal that a charge-interaction-directed reconstitution (CIDR) mechanism induces spontaneous reconstitution of detergent-solubilized MPs into various amphiphilic block copolymer membranes, many of which have far superior stability than lipid bilayers. Our preliminary data also suggest MPs are not enslaved by the biological membranes they derive from; rather, the chemically nonspecific material properties of MP-supporting membranes may act as allosteric regulators. Versatile chemical designs are possible to modulate the conformational energetics of MPs, hence their transport performance in synthetic systems. On the other hand, microalgae are widely regarded as a sustainable feedstock for biofuel production. Microalgae-derived biofuels have not been commercialized yet because current technologies for microalgae dewatering add a huge cost to the final product, and present a major bottleneck. We propose to solve the microalgae dewatering problem in the context of controlling colloidal stability, where inter-algal potential is tuned via surface engineering of novel coagulation agents. We report here a nanoparticle-pinched polymer brush design that combines two known colloidal destabilization agents (e.g., nanoparticle and polymer) into one system, and allows the use of an external field (e.g., magnetic force) to not only modulate inter-algae pair potentials, but also facilitate retrieval of the coagulation agents to be reused after algal oil extraction. We will discuss our extensive data on the preparation of well-defined nanoparticle-pinched polymer brushes, their structure-dependent coagulation performance on both fresh water and marine microalgae species, and their re-suability for continuous cycles of microalgae farming and harvesting.
Rights
Copyright of the original work is retained by the author.
Collections