Changing flow, transport, and geochemistry in the mountain pine beetle-killed forests of Rocky Mountain National Park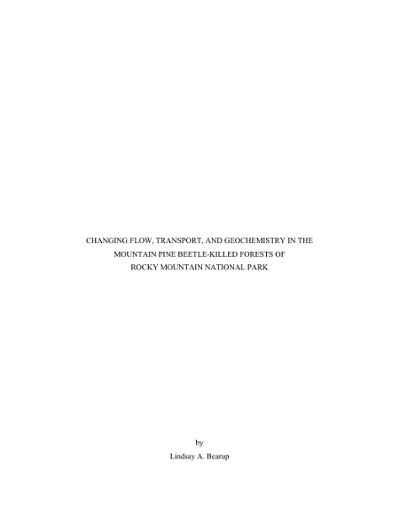 Name:
Bearup_mines_0052E_10540.pdf
Size:
15.82Mb
Format:
PDF
Description:
Changing flow, transport, and ...
Advisor
Maxwell, Reed M.
McCray, John E.
Abstract
Recent climate-exacerbated infestation of the mountain pine beetle in the Rocky Mountains of North America has resulted in tree death across the region that is unprecedented in recorded history. The spatial and temporal heterogeneity of the infestation creates a complex and often inconsistent watershed response, impacting the primary storage and flow components of the hydrologic cycle and interrelated biogeochemical cycle. Beginning with a review and synthesis of current literature, this dissertation moves toward a better understanding of the effects of the mountain pine beetle on the water supply and quality from forested mountain headwaters. Specifically, this work focuses on tree-death induced changes in metal mobility and the potential for changes in hydrologic processes and flow paths that would affect how mobilized metals and other potential contaminants reach stream networks. First, metal mobility analysis combining sequential extraction procedures and geochemical model simulations found select metals are redistributed and accumulate in soils altered by MPB-driven tree death. Modeling indicates that these changes are driven by changes in organic matter inputs with tree death and needle fall, as well as direct additions of metals from litter leachate. Next, long term transport and hydrologic memory of disturbance are evaluated through the identification of changes in hydrologic flow paths. Chemical and isotopic hydrograph separations uncovered the potential for increased groundwater contributions to streamflow during the late summer in MPB-impacted watersheds. These field-based approaches provide some spatial and temporal control to make inherently challenging comparisons; however numerical modeling of flow paths is needed for additional interpretation in the presence of natural variability. The final component of this dissertation employs a fully integrated groundwater/surface water/land surface model with a Lagrangian particle-tracking scheme to further understand changes in flow paths and age distributions with mountain pine beetle infestation. Model results provide insight into the processes behind the observed increase in groundwater contributions and a platform for future investigations of changing flow paths across scales and climates.
Rights
Copyright of the original work is retained by the author.
Collections