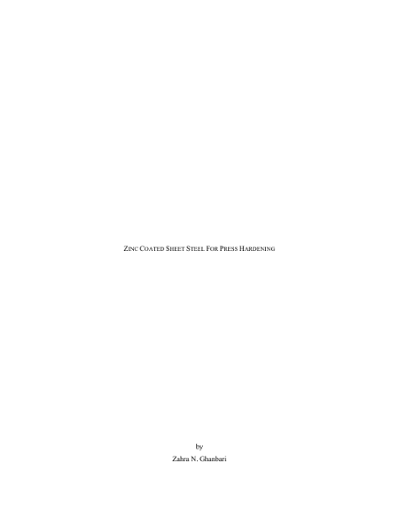 Name:
Ghanbari_mines_0052N_10538.pdf
Size:
5.827Mb
Format:
PDF
Description:
Zinc coated sheet steel for press ...
Abstract
Galvanized steels are of interest to enhance corrosion resistance of press-hardened steels, but concerns related to liquid metal embrittlement have been raised. The objective of this study was to assess the soak time and temperature conditions relevant to the hot-stamping process during which Zn penetration did or did not occur in galvanized 22MnB5 press-hardening steel. A Gleeble[RTM] 3500 was used to heat treat samples using hold times and temperatures similar to those used in industrial hot-stamping. Deformation at both elevated temperature and room temperature were conducted to assess the coating and substrate behavior related to forming (at high temperature) and service (at room temperature). The extent of alloying between the coating and substrate was assessed on undeformed samples heat treated under similar conditions to the deformed samples. The coating transitioned from an [alpha] + [Gamma][subscript 1] composition to an [alpha] (bcc Fe-Zn) phase with increased soak time. This transition likely corresponded to a decrease in availability of Zn-rich liquid in the coating during elevated temperature deformation. Penetration of Zn into the substrate sheet in the undeformed condition was not observed for any of the processing conditions examined. The number and depth of cracks in the coating and substrate steel was also measured in the hot-ductility samples. The number of cracks appeared to increase, while the depth of cracks appeared to decrease, with increasing soak time and increasing soak temperature. The crack depth appeared to be minimized in the sample soaked at the highest soak temperature (900 °C) for intermediate and extended soak times (300 s or 600 s). Zn penetration into the substrate steel was observed in the hot-ductility samples soaked at each hold temperature for the shortest soak time (10 s) before being deformed at elevated temperature. Reduction of area and elongation measurements showed that the coated sample soaked at the highest temperature and longest soak time maintained the highest ductility when compared to the uncoated sample processed under the sample conditions. Fractography of the hot-ductility samples showed features associated with increased ductility with increased soak time for all soak temperatures. Heat treatments (without elevated temperature deformation) and subsequent room temperature deformation were conducted to investigate the "in-service" behavior of 22MnB5. The uncoated and coated specimens deformed at room temperature showed similar ultimate tensile strength and ductility values. The only notable differences in the room temperature mechanical behavior of uncoated and coated samples processed under the same conditions were a result of differences in the substrate microstructure. All samples appeared to have ductile fracture features; features characteristic of liquid metal embrittlement were not observed.
Rights
Copyright of the original work is retained by the author.
Collections