Effects of pretreatment, heteropoly acid doping, hydration, and membrane chemistries to the morphology and transport properties of proton exchange membranes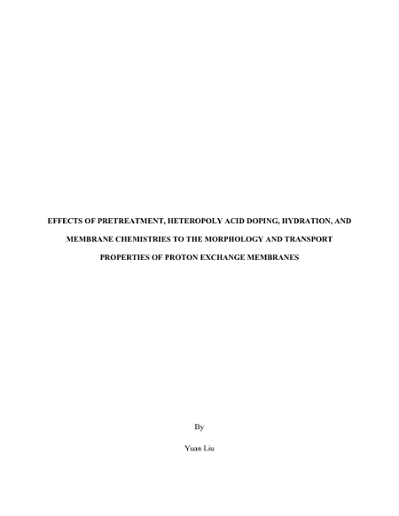 Name:
LIU_mines_0052E_10528.pdf
Size:
4.805Mb
Format:
PDF
Description:
Effects of pretreatment, heteropoly ...
Advisor
Herring, Andrew M.
Abstract
In this thesis we studied the influence of annealing, heteropoy acid (HPA) doping, and side chain chemistry to a perfluorosulfonic acid polymer's (PFSA's) morphology and transport properties. We also investigated the effects of polymer block structure on a co-polyamide material's morphology and proton conduction properties. We demonstrated that proton conductivity can be improved thorough annealing PFSA polymers at higher temperatures, due to the formation of larger ionic clusters: at 95%RH, the radius of gyration of the ionic domains increases from 11.9 Å to 17.1 Å, and the conductivity increases from 0.20 to 0.36 S/cm, as annealing temperature increases from 180 °C to 200 °C. We also observed that Grotthuss hoping can be facilitated by HPA doping: the proton conductivity contributed from Grotthuss hopping increases from 0.10 to 0.15 S/cm for the undoped and 5%HPW doped films. HPAs make the hydrophilic domains more homogeneous by their bridging effect: the tortuosity at maximum humidity decreases from 1.40 to 1.08, upon 5%HPW addition. To create larger ionic domains, bulky, highly flexible, and hydrophilic side chains, with less steric hindrance from protogenic groups are desirable: the 3M PFIA (contains multiple protogenic groups on the side chain), can form larger ionic domains than the 3M PFSA, which has a shorter side chain containing only one photogenic group; the meta bis ionomer forms larger ionic domains than the ortho bis ionomer, resulting from a larger separation distance between the sulfonic group and the imide group, hence less steric hindrance to water uptake. Ordered ionic domains (with inter domain distance ca. 60 Å) were achieved by making a block copolymer. The block copolymer has lower conductivity and smaller water uptake than the random polymer based on the same chemistry. The ionomer peak from the SAXS pattern of the block copolymer becomes less prominent upon hydration, indicating water reaches the polymer matrix.
Rights
Copyright of the original work is retained by the author.
Collections