Geophysical monitoring of solute transport in dual-domain environments through laboratory experiments, field-scale solute tracer tests, and numerical simulation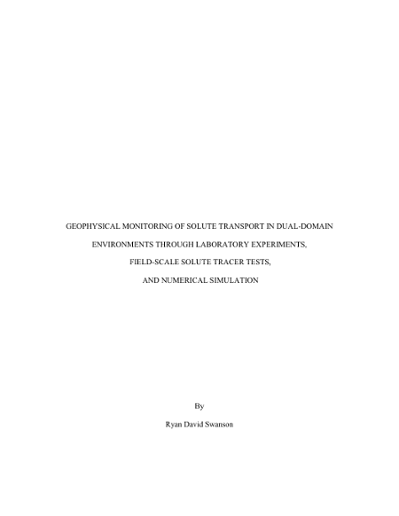 Name:
Swanson_mines_0052E_10542.pdf
Size:
6.944Mb
Format:
PDF
Description:
Geophysical monitoring of solute ...
Abstract
The advection-dispersion equation (ADE) fails to describe non-Fickian solute transport breakthrough curves (BTCs) in saturated porous media in both laboratory and field experiments, necessitating the use of other models. The dual-domain mass transfer (DDMT) model partitions the total porosity into mobile and less-mobile domains with an exchange of mass between the two domains, and this model can reproduce better fits to BTCs in many systems than ADE-based models. However, direct experimental estimation of DDMT model parameters remains elusive and model parameters are often calculated a posteriori by an optimization procedure. Here, we investigate the use of geophysical tools (direct-current resistivity, nuclear magnetic resonance, and complex conductivity) to estimate these model parameters directly. We use two different samples of the zeolite clinoptilolite, a material shown to demonstrate solute mass transfer due to a significant internal porosity, and provide the first evidence that direct-current electrical methods can track solute movement into and out of a less-mobile pore space in controlled laboratory experiments. We quantify the effects of assuming single-rate DDMT for multirate mass transfer systems. We analyze pore structures using material characterization methods (mercury porosimetry, scanning electron microscopy, and X-ray computer tomography), and compare these observations to geophysical measurements. Nuclear magnetic resonance in conjunction with direct-current resistivity measurements can constrain mobile and less-mobile porosities, but complex conductivity may have little value in relation to mass transfer despite the hypothesis that mass transfer and complex conductivity lengths scales are related. Finally, we conduct a geoelectrical monitored tracer test at the Macrodispersion Experiment (MADE) site in Columbus, MS. We relate hydraulic and electrical conductivity measurements to generate a 3D hydraulic conductivity field, and compare to hydraulic conductivity fields estimated through ordinary kriging and sequential Gaussian simulation. Time-lapse electrical measurements are used to verify or dismiss aspects of breakthrough curves for different hydraulic conductivity fields. Our results quantify the potential for geophysical measurements to infer on single-rate DDMT parameters, show site-specific relations between hydraulic and electrical conductivity, and track solute exchange into and out of less-mobile domains.
Rights
Copyright of the original work is retained by the author.
Collections